Two former members of the U.S. House of Representatives, one Democrat and one Republican, explained the problems with partisan politics through the Congress to the campus program Monday.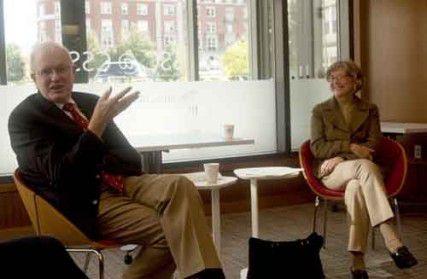 "Partisanship and difficulty in people being able to compromise has compounded the problems with governance," said David Minge, a former Democratic representative of Minnesota 2nd District. "One thing I've learned doing [Congress to Campus] is that I've met 10 Republicans with whom I've had more in common than different."
Minge and former congresswoman Sue Kelly have served a combined 10 terms in the House and told students about the reasons they had for entering a life of public service leadership.
"I ran for Congress having never run for anything before in my life," Kelly, a Republican who served New York's 19th District from 1995 to 2006, said. "There were a lot of weak candidates, and I didn't want to be represented by one of those people."
Minge, currently a judge on the Minnesota Court of Appeals, said he ran for election "to get issues off his chest."
In an open forum at 100 Bay State Road with about 20 students in attendace, the congressmen explained some problems they perceived in the political system.
"I think the money situation is corrupting the political process," Kelly said in response to a student question about flaws in American politics. "There's so much money [in politics] now."
Kelly referred to the Citizens United Supreme Court case, in which the court ruled that the First Amendment prevents the government from limiting the amount of money corporations or unions can spend on political campaigns.
The former representatives said they are concerned about the impact religion is having on the country.
"We have to as a country guard against sectarianism," Minge said. "That type of polarization is destructive in our society."
Kelly said her belief that religion should not have any impact on politics polarized her within her own party.
"My first primary campaign, most of [my opponents] had the Republican Party backing them," she said. "They laughed at me when I was driving around the district trying to raise funds. I got the last laugh."
Kelly told students that if they plan to vote in the next election, the most important thing to remember is to always check if the information you have is correct.
"There is so much misinformation and outright lies out there," she said.
Congress to Campus is a program created by retired members of Congress designed to send bipartisan pairs of former congressmen to college campuses.
"The goal is to allow students to meet, first-hand, the politicians who represent them," said Steven Jarvi, associate dean for student academic life in the College of Arts and Sciences.
Kristen Visakay, a CAS senior, said she came to get the opportunity to interact with politicians directly.
"I've had prior experience with internships in government, and you don't get much personal contact with the actual politician in that setting," she said. "This seemed like a more intimate forum to ask questions and get to know the people themselves."
College of Communication sophomore Mackenzie Tipton said she felt the need to learn more about what is going on in the political realm.
"I learned that the idea of congress isn't as alienating as it seems," she said.
Helena Carpio Fiasse, a CAS junior from Venezuela, said she needed to learn more about politics in the country.
"I'm not a citizen, so I thought this would be a sort of sneak peek of what Congress is like in the U.S., especially since this is an election year," she said.