The Boston University men's soccer team has one of its most challenging games of the season coming up against Stony Brook University on Friday at 7 p.m.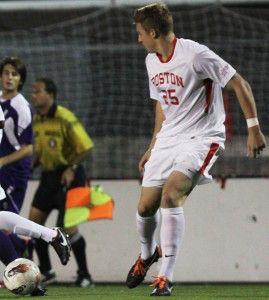 Friday's matchup will be a competitive one, as the Terriers (3–5–3, 0–0–1 America East) will look to prove themselves against the America East conference leading Seawolves (7–2–1, 1–0–0 America East).
BU coach Neil Roberts praised Stony Brook's play so far this season.
"We're hoping to get a rhythm going," Roberts said. "[Stony Brook is] a really good team and this is going to be a tough battle for us."
Stony Brook is a very good team on both sides of the ball statistically. They came into this game with a 1.90 goals per game average and 1.00 goals allowed per game average so far this season.
The Seawolves lead the conference in points (51), goals (19), goals allowed (10) and shutouts (five).
Their defensive success is largely  attributed to senior goalkeeper Stefan Manz, who has been one of the best goalkeepers in the conference this season. He has started six of Stony Brook's 10 games, and his 0.48 goals against average leads the conference while his .864 save percentage is the second best in the conference.
On offense, senior midfielder Leonardo Fernandes has stood out above the rest in the Seawolves' scoring front.
He leads the team and is second best in the America East conference in both goals (seven) and points (18).
He also leads his team in assists with four.
The next best scoring threat on Stony Brook this season has been freshman midfielder Alejandro Fritz, but even his three goals and nine points pale in comparison to Fernandes' fantastic year.
Stony Brook has not lost in its past six games, posting a 5–0–1 record over a stretch in which it has outscored opponents 12–3.
However, all six games came against unranked opponents. In their most recent game, the Seawolves barely beat the last place team in the America East conference, University at Albany, by a score of 1–0.
The team relied on Manz's all-time school leading 16th career shutout in order to preserve the win
The Terriers come into the game with a goals per game average of 1.27, and an identical goals allowed per game average. They rank at fifth in the America East.
Offensively, there are two stats that are the most telling for how BU has performed this season. It leads the conference in shots with 168, but is tied for fourth in goals with 14.
Redshirt freshman forward Parker Powell, redshirt freshman forward Mac McGuire and senior midfielder Michael Bustamante are all tied for the team lead with three goals apiece.
Junior midfielder Anthony Ciccone leads the team and is second in the conference with six assists.
Ciccone has developed especially great chemistry with sophomore forward Dominique Badji, as the two are constantly feeding the ball to each other to create scoring chances.
As a result, Badji leads the conference in shots with 38, which is only one ahead of BU's own Michael Bustamante.
Roberts said that he feels that Badji is a key to improving the offense.
"Dominique is the guy that we got to start get going," Roberts said. "We knew Michael [Bustamante] could score and Anthony [Ciccone] could score."
Despite the lack of a pure goal scorer, the emergence of these offensive weapons has lightened the burden on a banged up defensive corps.
Even with the injuries to junior defender Kelvin Madzongwe, freshman defender Jeroen Blugh and more recently sophomore defender Sanford Spivey, the defense has continued its success though.
"We knew that we would have to be a defensive team this year," Roberts said. "We went through injuries that changed the way that we play and the guys have adapted well to it."
With the gratuitious amount of injuries to the defense, senior defender Max White and sophomore defender James Holler have each earned more playing time.
Sophomore defenders Ethan Harlow and redshirt freshman David Castellano have also seen some minutes on the back line.
The reliance on a stalwart defense early in the season combined with a more offensive approach as the season has gone on has resulted in a great season for sophomore goalkeeper Nick Thomson.
Thomson has started every game for BU while posting a 1.20 goals against average, which is the fifth best in America East, and two shutouts, which is the fourth most for a goalie in America East. Both shutouts have come in the past four games.
The only other goalkeeper to play any time for the Terriers this season is sophomore Matt Daugherty, who has only played five minutes in relief of Thomson all season.
Thomson's true value lies in his consistency. He is one of only three goalies in the conference to have played all 11 games this season.
"He's working extremely hard so it's nice to see that," Roberts said. "Nick [Thomson] is just going to keep getting better and better."