As a part of this year's Fall Fringe Festival, Boston University's College of Fine Arts presents "Camille," a modern interpretation of an Alexandre Dumas novel about a doomed love affair. Director Judy Braha sat down with MUSE to talk about playwright Pam Gems' inspiration, a "roller coaster ride" of a script and the research-intensive, dynamic rehearsal process.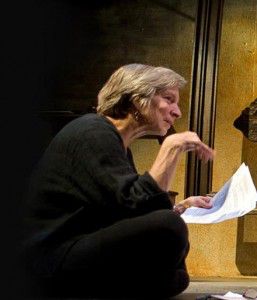 Karolyne Ridgill: What are some ways the play has been modernized?
Judy Braha: The play itself was written in 1984, and that was in the midst of [Margaret] Thatcher's England.  There was [a] giant economic problem for lower class folks at that time. I think that Pam Gems really saw a parallel between the women in "Camille" and women of Thatcher's England in trying to make ends meet in a very bad economy. There's a real emphasis on women trying to make a life for themselves in desperate circumstances and trying, in a way, to trick fate and change the hand they were dealt.
KR: How does "Camille" relate to this year's CFA keyword — resilience?
JB: Everyone in the play is very resilient. Alexandre Dumas called the world of this play the demi-monde, like the half world, which was his word for the world of very high-priced courtesans and beautiful people who live in sort of an underworld instead of an up and up environment. We're updating the play to 2012. We're not doing it in the 1840s. So, we're trying to find out what's our demi-monde—our underworld—of today.  And it makes me think of the 99 percent and the one percent because we definitely have a world where there's aristocracy, and then we have the world of common folk. So, in that sense there is a lot of striving for resilience in the play and a lot of very resilient people who, no matter what, bounce back. But unfortunately Camille is not one of them. Although she wins for a long time, at the end, she has a tough time remaining resilient.
KR: What can the audience most look forward to in the play?
JB: It's very beautiful at moments and farcical at moments and of course tragic at other moments. What I really love about the script is how it's a huge roller coaster ride, and it's a really good time for [the] audience to see what happens to this beautiful woman and the man who loves her in this inhospitable society. And I think just the idea of seeing basically the same story in three different forms is really exciting. The Alexandre Dumas cited as the playwright isn't the same man who wrote famous books such as "The Count of Monte Cristo" and "The Three Musketeers," but his illegitimate son.
KR: Was this a common misconception you had to correct?
JB: Yeah, I guess so. Poor Alexandre Dumas fils, who was the son who wrote our play, was pretty much not acknowledged by his father until he was in his 20s. He was always this great kind of advocate of the underdog. He understood women who had no choice but to give into this life. But the father, although he was a really great writer, wasn't a great guy to the son. So, the son really spent a long time trying to crusade for these women, and he wrote a lot about their lives because he grew up in the same way.
KR: Can you tell us a little about the rehearsal process?
JB: We've been working hard with a lot of improvisation to discover links between our time and their time, and we've found lots. We've also added a lot of cell phones and electronic devices. We're basically finding and looking online, listening to women who are high-price call girls or who have been [during] their life and finding that they got into the business for the same reason all our characters did — to make their lives better and to save their families. They weren't in the business for a depraved reason. Because of the roller coaster nature of the play, we have some nights, which are just hysterically funny, and we howl and laugh with discovery of the piece and other nights we can't even move because it's just so tragic.
KR: In a few words, how would you describe the process of putting together this production?
JB: Exciting, challenging, an imaginative leap for actors, directors and audience, a challenging design problem. I think it's kind of a wonderful soaring experience to deal with this story that's almost mythological in its history. So many different kinds of people have tried to tell the same story, so it's always kind of a thrill to work on this material like that.
"Camille" runs Saturday, Oct. 13  through Saturday, Oct. 20 at the BU Theatre. Times vary. $7 general admission.