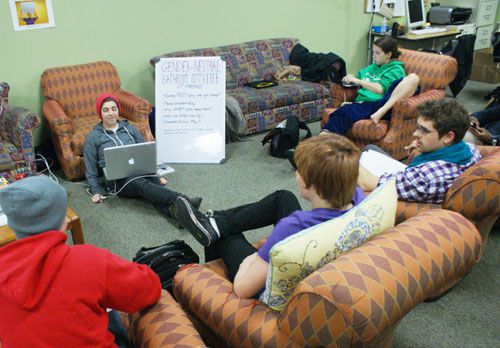 Aiming to make bathroom use easier for students who do not identify with a specific gender, the Center for Gender, Sexuality & Activism has begun holding meetings addressing the lack of gender-neutral bathrooms on Boston University's campus.
"It's an idea that was brought up at our town hall meeting a few weeks ago, and a lot of people were excited for it there," said Student Government Director of Communication Cherice Hunt.
SG does not have too large of a role in these discussions right now, Hunt said. Students and the CGSA are taking it upon themselves to further discussions.
"It's a great idea, but we're not really sure where they are in the process of making it happen," Hunt, a College of Communication junior, said.
The CGSA is waiting for further meetings to work on the proposal before making a statement on the matter.
SG has more pressing concerns at the present time, Hunt said.
"It's not at the top of our list of priorities right now, but that's not to say that it couldn't be down the road," Hunt said.
In places where they have been implemented, gender-neutral bathrooms are typically single-stall bathrooms without a gender label on the door.
Colleges in the area, including Tufts University, Wheaton College, Harvard University, Emerson College and the University of Massachusetts Amherst have already created gender-neutral bathrooms.
"It is really a non-issue," said Tom Bourdon, director of the Lesbian Gay Bisexual and Transgender Center at Tufts. "The hope is that having restrooms of this sort makes going to the bathroom easier for gender-nonconforming or transgender individuals."
Wheaton has had gender-neutral bathrooms since the institution became coeducational in 1988, said Michael Graca, Wheaton's vice president for communications.
Some BU students said they support the idea.
"The reasoning behind this is to provide accessible bathrooms to everyone," said Rea Sowan, a College of Arts and Sciences sophomore who attended the first meeting last Wednesday.
Megan Ramette, a COM junior, said it would be a great option BU could provide.
"There's a large group of people who don't necessarily identify with the gender they were assigned at birth," she said, "and then you get the really complicated situation where they are stuck between the men's room and the women's room."
Alexander Delgado, a CAS freshman, said it is important for people to feel comfortable on their college campuses.
"I know people who do not identify with either gender probably do not feel comfortable in either a male or a female bathroom, and it would be something that would help them," he said.
Other students said they were indifferent toward the matter, but would not oppose the addition of gender-neutral bathrooms.
"It doesn't bother me," said CAS senior Tino Bratbo. "If people feel the need for it, then I think it is a great idea."
However, Bratbo said he is not sure how many people are facing this issue at BU.
"If it is an issue, it's certainly something that we should be providing," Bratbo said. "But, on the other hand, if these bathrooms are just going to stand there and nobody uses it, it seems like it could be a waste of money."
Ramette said she is not sure how many people would benefit if gender-neutral facilities were built.
"I think the reason behind that is people are maybe not comfortable divulging that information," she said, "because it's seen as a stigma to have this gender dysphoria."