Parents' weekend starts Friday, which means it's time to clean your room for the first time all semester and wake up before noon to go on "family excursions." It also means getting your parents to treat you to a meal that isn't served buffet-style. If you're looking for something more like a dining experience and less like a dining hall, parents' weekend is the perfect time to find it.
Dining Dreams Come True: Bricco Ristorante
If you and your parents are taking in a show at the Improv Asylum, or meandering around Faneuil Hall, you're bound to hit the North End and stop for some delicious Italian cuisine. But with over 86 restaurants in the district, how can you choose the right one?
Bricco Ristorante, located at 241 Hanover St., owner Frank DePasquale said you won't find your typical plate of spaghetti and meatballs on his menu. Bricco focuses on more authentic Italian dining.
Featured in their seasonal menu are zucchini flowers stuffed with truffle ricotta cheese and tempura of grilled vegetable ($19), pumpkin tortelli with amoretti and truffle honey, sage butter and glazed root vegetables, aricotta salata ($24) and veal ossobuco with traditional saffron risotto and honey-glazed root vegetables ($38). Finish the meal off with one of their homemade gelatos or a classic Tiramisu with coffee liqueur and chocolate sauce ($9).
The use of the highest quality ingredients, the recipes inspired by DePasquale's family members and the restaurant's warm atmosphere make for a trifecta of positive results.
Allston's Afghani Arrival: Ariana Restaurant
If you're feeling something a little more exotic, head over to Allston for some traditional Afghani food at Ariana. Open since July 2010, Ariana is a relatively new to the Boston dining scene, the kind of hidden gem that makes Yelp! users go crazy.
Ariana is located at 129 Brighton Ave., just a few blocks past Packard's Corner. The mellow yellow walls contrasted with the deep Mediterranean blue cups create a relaxing yet authentic atmosphere where one could picture spending an entire Sunday afternoon with family. The soft Afghani music playing in the intimate 19-table venue creates a perfect backdrop for eating one of the many traditional Afghan dishes Ariana has to offer.
Owner Najeeb Rostami said that Ariana is one of the few Aghani restaurants in the city.
"We're close to everything, and very unique in all of Boston," he said. "No other restaurant can provide the same thing."
Once you've tried some of Rostami's food, you'll see why. The Banjan is a dish of pan-fried eggplant seasoned with spices then baked with fresh tomatoes served on a garlic and mint yogurt sauce ($5.95). The soft consistency of the eggplant mixed with the slightly sour yet not overpowering sauce strikes a perfect chord.
The real masterpiece, however, is the Kaddo, a pan-fried baby pumpkin seasoned with sugar and served on garlic yogurt sauce topped with ground beef sauce ($5.95). The perfectly sweetened baby pumpkin has a butter-like quality while the hearty ground beef topping provides a stellar combination of savory and sweet. It is melt-in-your-mouth-perfection that you probably didn't know a Halloween decoration could provide.
Rostami said his authentic Afghani creations come from family recipes. "It's what we eat back home. It's a limited menu, very traditional Afghan food. It's exactly what you'd eat there," he said.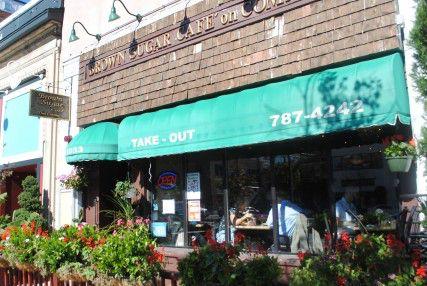 Can't make it the North End or unwilling to adventure into Allston?
If you're around Boston University's West Campus, head to Brown Sugar Café for some tasty traditional Thai dishes, like shrimp pad thai and tom yum soup.
Want to stop for a cheap bite on the go? Consider Roxy's Gourmet Grilled Cheese, a foodtruck that offering inspired and fresh takes on gooey classic. Check Roxy's website, http://www.roxysgrilledcheese.com, to find the truck's locations and seriously consider ordering the short rib grilled cheese. You won't regret it.
And, if you really want your parents to treat you right, head to Island Creek Oyster Bar in Kenmore Square for a yummy raw bar selection and lobster roe noodles with braised short ribs.