In the course of her career with the Boston University women's hockey team, Louise Warren has yet to miss a game. While the junior forward's presence has been felt on the ice, however, she had never scored more than one goal in a contest and had only tallied 13 goals in 76 games before her junior season.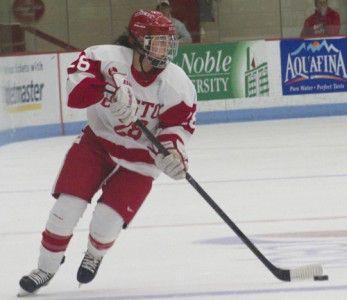 That changed on Saturday when the Pembroke, Ontario, native stepped up in a big way and recorded her first career hat trick against No. 8 Boston College. Warren's performance helped to fill the offensive void left by Marie-Philip Poulin's absence, as the junior co-captain was away representing Canada at the Four Nations Cup.
"Somebody had to step up," said BU coach Brian Durocher. "You know, you lose somebody like Marie-Philip who's out for the next couple games — this one and the [University of New Hampshire] game — somebody's got to step up and [Saturday] was Louise's turn."
Warren's time in the spotlight started halfway through the first period with the Terriers down 1–0. Freshman forward Lillian Ribeirinha-Braga carried the puck down the left side of the ice before she skated around the net and passed it to Warren at the right circle. Warren's shot then dribbled by BC netminder Megan Miller. The goal was Warren's first of the year.
Just three minutes later, Warren continued with her career game when she gave the Terriers their first lead of the game off of a slap shot from the slot that got by Miller at 12:41.
Once again, Ribeirinha-Braga assisted in the play as she sent the puck around the boards. Menard, after battling for it, sent the puck over to Warren.
"I thought [senior forward] Isabel Menard played extremely well on her line with [Warren]," Durocher said. "I think we got a real good effort from Lillian Braga who's been in and out of the lineup … It's nice to have multiple people step up. Louise was at the top of the charts [Saturday] because she had her chances."
With the two goals, Warren had already notched a personal milestone by recording her first career multi-goal game. She was not finished scoring, however, as she gave the Terriers another lead during the third period.
Just 32 seconds after BU had tied up the game at four goals apiece, Warren deflected a pass from Menard past Miller as Warren went crashing into the net.
"Everyone was looking to step up, many people did," Warren said. "I just think I was the lucky one to finish it off."
Even though the lead that Warren gave BU did not last, she said she was still proud to have accomplished such a feat.
"Oh wow. I mean it was a great feeling, especially for it to be against BC," Warren said. "It was awesome. It was a good team effort, all three goals."
Durocher said that part of what makes Warren so valuable to the Terriers is her versatility on the ice.
"She's a great forechecker," Durocher said. "She's really strong. She loves to play on the wall. She creates offensive opportunities. She probably would love to just get a little more polish in her finish, but if you do all the things I mentioned and are a good sized, strong player, you're a real asset to this team and she's been an asset here for over two full years."
According to Durocher, although Warren's performances can sometimes fall under the radar, she tends to step up in big situations.
"[She] always seems to play well in big games too," Durocher said. "I think back to the NCAA Tournament a couple of years ago, I think last year in Cornell in that game, she had more legs than anybody at the end of the game.
"She does fly under the radar, but she's awfully appreciated by myself, the staff and her teammates."