Backed by what her campaign lauded as a "grassroots effort," Elizabeth Warren reclaimed the Massachusetts Senate seat for the Democratic Party, becoming the Commonwealth's first female senator on Tuesday.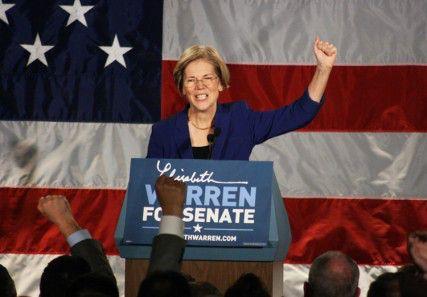 The former Harvard professor and creator of the Consumer Financial Protection Bureau addressed the crowd of more than 750 people who filled the ballroom of Fairmont Copley Plaza Hotel past capacity.
"This victory belongs to you — you did this," Warren said in her victory speech. "You taught a scrappy first-time candidate how to get in the fight and win."
Warren won the election with 54 percent of the electorate, according to results from the Associated Press.
The results mark a move back to Massachusetts' Democratic history — prior to Scott Brown's election in 2010, Democrats had consistently represented the Commonwealth since 1979.
Her win also marked a transition in the Senate, in which Democrats won back seats and held onto a majority. Republicans held the House of Representatives.
Although early polling by Public Policy Polling showed Warren with a lead a week after announcing her candidacy in September of 2011, Warren and her opponent, incumbent U.S. Sen. Scott Brown, ran neck-in-neck for most of the race.
Warren survived attacks on her possible Native American heritage and her work with Traveler's Insurance on an asbestos case. She held firm, saying that Brown was trying to distract the voters from examining his voting history.
Both former Mass. Gov. Michael Dukakis and U.S. Sen. John Kerry attended Warren's victory party and congratulated her win.
Warren later told the crowd that she wished Brown and his family all of the best.
Amid a fired-up crowd at the Park Plaza Hotel, Brown said Democrat U.S. Sen.-elect Elizabeth Warren won the Senate seat "fair and square."
"We stand strong even in disappointment," Brown said. "I said in the very beginning when we started this trek in January, win or lose, we would run a race that we would all be proud of."
Dorchester resident and student employer service founder John Spadaccini said he wanted Brown to win because he proved to be a good senator in the past and lived up to his promises.
"He made a promise two years ago to be the Independent voice for Massachusetts," he said, "and he kept that promise."
The 45-year-old said he disagreed with Warren's decision to support public funding for abortions and said the senator-elect had a lot to learn for her new seat.
"She has only known academia, which has it's own culture," Spadaccini said. "She's going to be in for a culture shock."
Brown thanked the voters of Massachusetts, his family, friends, cabinet and campaign managers for supporting him and said he will return to the Senate before handing over the reigns to Warren.
"We have a tremendous amount of challenges to look forward to going back to the U.S. Senate, as dysfunctional as it is," he said. "I will never, ever regret helping people that could not help themselves."
At the end of his speech, Brown said young people in the U.S. should aim for goals they do not think are possible, and all that mattered was what was accomplished during his time as senator, even if his tenure was short.
"When it seems nothing is possible and the odds are stacked against you, I can speak from experience — anything is possible," he said. "For me, it was an honor to carry your flag, even for a little while.
At Warren's election celebration, State Democratic Party Chairman David Walsh said in an interview Warren's win is beneficial for Massachusetts.
"She would be the kind of senator, based on the kind of campaign she ran, who would be a great constituent-serving senator," he said.
Creating jobs and fixing student loan debt were also major issues of Warren's campaign. She hit Brown several times during the campaign about his votes against three jobs bills in 2011.
Mass. Gov. Deval Patrick, who gave Warren his endorsement, also spoke at Warren's victory rally.
"Because of you, our next senator is Elizabeth Warren," he told the crowd.