With the 2012–13 season about to tip-off, the Boston University women's basketball team is primed for another strong year in what will be its final season in the America East.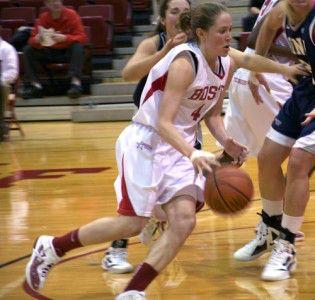 Coming off a season in which the team finished with a 23–9 record and 15–1 conference record, as well as a bid into the Women's National Invitational Tournament, BU coach Kelly Greenberg is holding lofty goals for the team this year.
"We really want to win more than 23 games," Greenberg said. "We want to be undefeated in conference play. They're very lofty goals … We did a lot of things last year, and we want to do them again."
The Terriers are returning 10 players from last season, led by the dynamic backcourt duo of senior guards Chantell Alford and Mo Moran.
Alford, who led the team with 12.4 points per game last season, will look to win the America East Player of the Year for the a third consecutive year.
Moran, who finished second on the team last year with 10.9 points per game and finished second in America East with 4.0 assists per game, was named tri-captain of the team this year. Her fellow captains include junior forward Rashidat Agboola, who ranked second in the conference with 8.8 rebounds per game last season, and junior guard Danielle Callahan, who missed all of last season due to an injury.
Other players returning to the team are senior guard Kristen Sims, junior guard Melissa Gallo, junior forward Whitney Turner and sophomore forward Mollie McKendrick.
The Terriers are also welcoming four freshman to the team, including guards Katie Poppe, Clodagh Scannell and Dana Theobald, as well as forward Dionna Joynes.
"From the get-go, they have great personalities. They have really gelled with the upperclassmen, they work hard and they're learning a lot," Greenberg said. "Fortunately for me, and for them, I don't think we're going to need to rely on them early because we have a lot of returning players, which gives them some time to season a little bit, but they're right on target, we're very happy with them, and they're going to have great careers here."
Unfortunately for the Terriers, both senior forward Jacqueline Kuczynski and sophomore guard Troi Melton will miss the entire season due to injuries.
The Terriers have quite the challenging schedule this season, as they will face off against 11 teams that won at least 17 games last season, as well as six teams that received bids into the NCAA tournament last year.
"It's crazy," Greenberg said. "We realize that we are playing some teams that are a lot bigger, more athletic, deeper, which is fine. We do have a nice mix of veteran players … I am really excited to see how we respond, especially with our first three games being at home, we don't get that very often.
"We don't get a [No. 17/22] West Virginia coming into Case Gym a whole lot, so we really see it as an opportunity. If we're ever going to beat a West Virginia, it's going to be right here."
The Terriers will open up their season at home against Boston College on Friday at 7 p.m.
For Greenberg, this is not the same Boston College team that they defeated last year at Conte Forum.
"This year is going to be different," Greenberg said. "They have a new coaching staff, so we can't be as prepared because we have no idea what they are going to be doing offensively and defensively.
"They're going to know what we do from tape and stuff, so we're going into a game being very unfamiliar with their philosophy with their new coach, so we have to be ready for a lot of things."