For the second consecutive year, the Boston University men's basketball team will be forced to begin anew after having graduated the America East Player of the Year.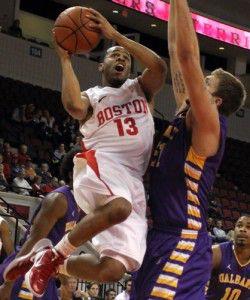 This may be the year that having the Player of the Year on the roster is crucial for the Terriers. Because of BU's decision to switch to the Patriot League for the 2013–14 season, most of the university's athletic teams has been banned from the America East postseason tournament. This means the Terriers will have to be regular season conference champions if they wish to have a chance to participate in March Madness.
"A goal of ours is definitely to work toward winning a regular season championship," said BU coach Joe Jones. "It was last year [as well]. We were out by two games last year and we're going to try to improve on that this year."
With former Terrier guards Darryl Partin and John Holland both getting looks from NBA programs (Holland played on the Oklahoma City Thunder and Miami Heat Summer league teams, whereas Partin has been signed by the Fort Wayne Mad Ants of the NBA D-League), Jones will be forced to seek new weapons to put up big points for his team.
This year's co-captains are junior guard D.J. Irving, junior forward Dom Morris and junior forward Travis Robinson. Each of them started in at least 27 of BU's 32 games last year.
Morris, who led the team in rebounds last year with 5.9 per game, said his role on the team has tangibly changed since he became a co-captain.
"I have a lot more responsibility than I had when I first started my career here," Morris said. "Coach rides me a little better … and when one player makes a mistake, it comes back to the captains."
Perhaps the most significant returning member of the Terrier offense is the six-foot Irving. Irving has led BU in assists during both his freshman and sophomore campaigns (3.9 and 5.4 per game, respectively). The point guard also placed second on the team in scoring last season with 11.4 points per game. He was also on the preseason All-Conference team this year.
Robinson played fewer total minutes than his co-captains during his sophomore campaign, but he was consistently the team's most efficient shooter. The small forward finished first on the team in three-point percentage (39.7 percent) and converted 22-of-23 free throws for an impressive 95.7 free throw percentage.
BU's freshmen are also likely to play a major role on the team. Guard Maurice Watson Jr. was ranked among ESPN's Top 100 recruits in the nation prior to the start of the preseason. Additionally, John Papale, also a guard, was lauded by ESPN as one of the nation's top 25 shooters.
Jones praised all of his freshmen for their efforts during the preseason.
"Maurice has really been working hard in practice and pushing for some time," Jones said. "John will probably get some of the most time off the bench for the guards. [Forward] Nathan [Dieudonne] will probably go in for [redshirt sophomore] Malik [Thomas] sometimes, and [forward] Justin Alston will also see some time up front for us."
Jones also commented on the play of Thomas, saying that his role is likely to be much more significant this year, especially as the Terriers test the waters in their first few games of the season.
Last season, Thomas played the most minutes (383) out of any of this year's non-captain returnees, despite sustaining an injury for the first seven games. The versatile Harlem, N.Y. native has played both the guard and forward positions for the Terriers. He averaged nearly five points and four rebounds per game off the bench in the 2011-12 season.
America East preseason polls have BU ranked third behind the University of Vermont and Stony Brook University. Though this ranking is by no means a poor one, Morris said he and his teammates are not concerned with such predictions.
"We don't look into the preseason polls," Morris said. "That's for other people's entertainment. We just want to take it one game at a time."