Excitement has been building through the first two games of the season for the Boston University women's basketball team, as the Terriers opened up the season with a win against heated rival Boston College and a nail-biting loss to No. 17 West Virginia University.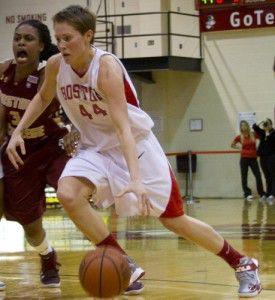 The Terriers will look to keep up their momentum when they finish their three-game home stand against the University of Richmond Friday night at Case Gymnasium.
Although it is only two games into the season, it is clear the Terriers (1–1) are playing well, owing large thanks to their star seniors. Senior guard Chantell Alford has been the top performer so far, nearly averaging a double-double at 23.5 points and eight rebounds per game.
Alford knocked down a career-high six 3-pointers in her effort against WVU (2–0).
Senior point guard Mo Moran is also helping the Terriers on the offensive side of the ball. She leads the team with 12 assists and is second in points per game (11.5).
Although the two seniors have been dominant, BU coach Kelly Greenberg said she would like to see other players score as well.
"I'd like to see others score, but you never know how the games will unfold," Greenberg said. "[Junior forwards] Rashidat [Agboola] and Whitney [Turner] can have big games. Our first six or seven can all score."
The Terriers have a chance to play their third straight game at home, which is something Greenberg said she enjoys early in the season.
"Playing at home is very big," Greenberg said. "Every year is different though, so anything can happen."
The Spiders (1–1) won their opening game of the season, defeating Longwood University. Most recently, they lost to No. 23 University of Miami in a close game, 69–63.
Throughout their first two games, the Spiders put up a strong offensive attack. They are spreading the ball around and getting contributions across the roster. Four players are averaging double-digit points.
"They have very balanced scoring all around," Greenberg said. "They can all score."
Redshirt senior guard Rachael Bilney is leading the way for the Spiders' balanced offense. She is averaging 16 points per game this season and her field goal percentage is .481. Bilney has also put up a solid 41.7 percent from behind the arc.
Not only has Bilney been putting up some incredible scoring numbers, but she is also averaging 3.5 rebounds per game, which is impressive for a shooting guard.
"[Bilney] has a way about her," Greenberg said. "She not only can take the deep shots, but she gets in there for rebounds. But we'll still have to prepare like we do every other game."
Offensive flow is not Richmond's only strength. The team has also done a great job controlling the inside.
Forward Genevieve Okoro has already pulled in 22 rebounds, including 17 on defense. The six-foot junior is also averaging 10.5 points per game, giving her a double-double at this early stage in the season.
Sophomore Liz Brown has 10 rebounds, three blocked shots and four steals for the Spiders. At 6-foot-3, the Spiders' center is likely to be at least two inches taller than any Terrier that will see time during the matchup.
The Terriers may have a difficult time taking it to the inside on the Richmond forwards, and Greenberg acknowledged this fact, but said that she did not plan any drastic changes to her game plan.
"[Genevieve Okoro and Liz Brown are] both good," Greenberg said. "Still, we will look for a balanced attack and look to take it to them."