Redshirt senior forward Jenelle Kohanchuk of the Boston University women's hockey team put up six points in games against Providence College and No. 5 Harvard University, thus continuing her second attempt at a successful senior campaign.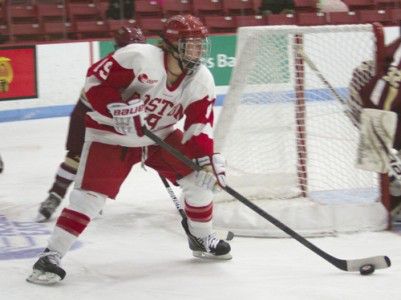 Kohanchuk had a career day against the Friars (7–5–3, 5–2–2 Hockey East) at Walter Brown Arena on Friday night.
She netted two goals and picked up three assists, totaling a career-high five points on the game. BU (9–3–1, 4–2–1 Hockey East) won the game in a rout, 7–1.
The Winnipeg, Manitoba, native finished her superb weekend with a crucial goal against Harvard (4–1) in a nail-biting 2–1 victory.
Kohanchuk said the important goal was all started with a strong play by junior co-captain Marie Philip-Poulin to force a turnover.
"Poulin and I were on a forecheck and she caused a turnover from the other team and she paced it back to me and I got the goal," Kohanchuk said.
Kohanchuk's success with the Terriers goes far beyond the weekend.
In her freshman year, Kohanchuk led the team with 31 points on 15 goals and 16 assists in just 28 games. Her 15 goals were tied for the team lead and even stood as the third-highest season total in program history.
Her sophomore year heeded similar success. The forward totaled 21 points on 12 goals and nine assists in 27 games. She tied for second on the team in goals and power-play goals (five).
In Kohanchuk's junior year, she showed that she could do more than score. She gathered a career-high 21 assists on the season to go along with 10 goals and a total of 31 points, equaling her point total from 2008–09.
However, Kohanchuk sustained a season-ending injury in the seventh game of the 2011–12 season. A season that was supposed to be spent scoring goals and ending a fantastic collegiate career was instead dedicated to rehabbing and getting back on the ice.
BU coach Brian Durocher noted how fortunate BU is that Kohanchuk was eligible for a redshirt senior year.
"We're very lucky to have [Kohanchuk] here because she was within one game or maybe two of losing that redshirt possibility," Durocher said. "Thankfully, it happened in the seventh game where she could come back and obviously it's been our benefit."
Despite not playing competitive collegiate hockey for almost a year, Kohanchuk was able to bounce back to top form quickly.
The forward is already taking advantage of her second chance at a complete senior campaign. Kohanchuk is ninth in America East in points (15), sixth in goals (six) and seventh in assists (nine) through 13 games.
Durocher said he credits the timing of the injury to her ability to get off to a quick start during the season.
"The good thing was late last year, right at about the time the season was ending, she was back to good health," Durocher said. "She got to take advantage of this spring and all summer."
"She played a good bit of hockey and got her timing and got her rhythm back."
Kohanchuk, on the other hand, said her teammates are the major reason she has been able to have success early on in the season.
"With my teammates supporting me and helping me in practice and during the games, it has helped me come back into the game a lot quicker than what I thought [I would]," Kohanchuk said.
With the third best points, goals and assists totals on the team, Kohanchuk is a crucial factor to BU's success on the ice. But Durocher said she has just as much of an impact off the ice.
"She is a tremendous talent with speed. She can shoot the puck, she can make hockey plays and she has been a real good person in the locker room too," Durocher said.
"[She is] somebody who has got the experience of being around here for now her fifth year and you like to do things and set the standard in practice and set the standard across the street in the weight room."
Kohanchuk said her absence from the team during the 2011–12 season changed her perspective and approach going into her final campaign.
"Being out makes you want to play the game just as bad," Kohanchuk said. "You take nothing for granted when you come back and you just live in the moment and cherish it."
This Terriers team would be much different without the on-ice and off-ice presence of Kohanchuk. When asked if returning for a redshirt senior year was a difficult decision, her answer was blunt.
"[It] definitely was not a difficult decision at all," she said.