After three games in about two weeks in Case Gymnasium, the Boston University women's basketball team leaves home for the first time Tuesday night — and it won't be going far. The Terriers will challenge Northeastern University for the first and only time in the 2012–13 season in the Huskies' territory.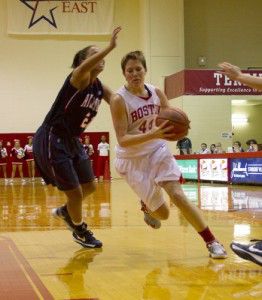 The Terriers (2–1) have thus far beaten all unranked opponents, and they have done so with a constantly improving attack. Conversion percentages for all shots, free throws inclusive, have not dipped once, jumping as much as 19.1 percent between game one and game three.
The Huskies (1–2), however, have been less consistent over the course of their three games. With the exception of a jump in free-throw conversion, all contestable shots have jumped by at least 15 percent between the first two games, only to then drop by at least 10 in the third.
"[NU] really create[s] a lot of havoc," said BU head coach Kelly Greenberg. "They really play in attack mode on both ends of the floor."
Since the 2006–07 season, BU has won five of its six meetings against NU, the only loss coming in the 2010–11 season at Northeastern. For every other game, the final buzzer has left the Terriers up by as much as 14 points.
They expect nothing less this year.
"We really want to continue what we [have been] doing." Greenberg said. "We've done a real nice job of keeping very good spacing on the offensive end and we've been able to put players in good situations. Defensively too, I feel we can shut down their guards pretty well."
The numbers have the Terriers ahead of the Huskies in most areas on offense, including field goals and 3-pointers. The same is true on defense as well, as the Terriers have almost twice as many blocks.
Still, BU has had its home crowd at every game so far. Even though Northeastern is only across town, an away game is something the team has yet to experience in the early going.
"We have talked a lot about how fortunate we were to have the three home games to start off the season … but this is very different from those three games," Greenberg said. "Even though we won last year, there was a lot of havoc on the floor … but I don't have to motivate my team that much because they know the importance of it."
All four of the Terriers' key players thus far are upperclassmen.
Senior guard Chantell Alford leads the team with an average of 21.7 points per game, and she racked up a career-high 30 points last Monday against No. 14/22 West Virginia University.
Senior captain Mo Moran leads the team with 20 assists, 13 more than anyone else, and is second in points per game with 12. She has started every game and has played more time than any Terrier this season.
As for defense, while Alford and Moran still have an impact, junior captain and forward Rashidat Agboola and junior forward Whitney Turner have had the most impact. The two of them account for just under half of all rebounds and 72 percent of all blocks.
"We need to physical on defense and we've done a good job of that," Greenberg said. "If we can get really get [the Huskies] out of their game, tire them out, we'll have much less to worry about."
The Huskies have two major players to watch out for.
Redshirt senior Kashaia Cannon did not play last season, but she led her team in points in the only loss the Terriers have had against Northeastern in recent years. She remains a threat this year as well, for is second on the team in scoring with 13.3 points per game.
The biggest threat however, according to Greenberg, is senior guard Deanna Kerkhof. She nets 14.7 points per game, good for first on the team.
"Kerkhof is definitely their best player," Greenberg said. "She can play inside-out … Our returning players are used to her and Cannon though. We're definitely ready for them."
After NU, the Terriers travel to Michigan during the long weekend to take on the University of Michigan (2–1) and Eastern Michigan University (1–2).
"We're really excited to play them both," Greenberg said. "It's going to be quite a challenge for us. We're going to have a lot of fun, but we really want to come back with two Ws."