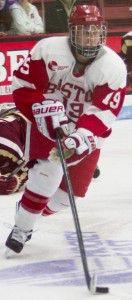 Coming off back-to-back victories against Providence College and Harvard University, the No. 7 Boston University women's hockey team will face the Russian National Team in an exhibition game at Walter Brown Arena Monday night.
BU (9–3–1, 4–2–1 Hockey East) beat Providence (8–5–4, 5–2–2 Hockey East) by a score of 7–1 on Friday night, and held off No. 5 Harvard (6–1–0) on Sunday, with a 2–1 victory.
Senior forward Jenelle Kohanchuk was the star of the weekend, netting a total of six points on three goals and three assists.
"I just hope she continues her good play," said BU coach Brian Durocher. "In an awful lot of sports it revolves around your confidence, and when you're confident, you'll always find a way to get into the net.
"Hopefully she'll continue to just play well and create offense, but also play fantastic defense. Her skating allows her to defend extremely well, whether she's playing on wing or playing center. Hopefully it's a line of consistency that keeps going for her."
The Russian National Team most recently faced No. 9 Northeastern University (8–3–2, 4–3–1 Hockey East) on Saturday night. Northeastern emerged victorious with a final score of 6–4. Forward Lyudmila Belyakova scored two goals for Team Russia.
Last season, the Terriers played two games against Cornell University over Thanksgiving break. BU lost both games, allowing a combined 10 goals on the weekend and scoring only two.
Durocher said having no games over Thanksgiving break this season will give the Terriers an advantageous rest and the exhibition will allow the team to ease back into playing hockey.
"It's a great way for us to get back into the rhythm of skating in general, but certainly get back into playing some games," Durocher said.
Durocher said that the exhibition game will also allow more equal playing time for all of the team members.
"Sometimes you play a lot of three-line hockey and spot your fourth line, but in a game like this we'll have a chance to play all four lines and give those people some more reps.
"We may put a couple of new faces in just to get them in a game here or there, but whoever's in there I hope that tomorrow's a game where pretty much all four lines play … I'll let the kids sort of decide who's going to step up and who's going to play well."
"We'll play them all equal amounts tomorrow, and get a chance to look at everybody for 60 minutes."
Durocher said that he feels his team has a chance to match up well against the Russian team.
"If we play our game, we'll be a tough opponent to deal with," he said.
Durocher emphasized the significance of the game on a broader scale.
"We're still continuing to try to grow this game, and we in North America have done everything we can to go offer opportunities to international countries, the European countries, and hope that there's more opportunities for the females there, but at this point it's been a little slow in evolving … we're always trying to push the envelope by inviting them over here."
Durocher said the team's main focus headed into the game is to continue improving in the areas in which they have been struggling.
"Our focus is … to continue to get a little bit better on our special teams," he said. "Our penalty kill has gotten a little bit better in the last couple of games. Our power play still has some work to be done."
Durocher said he has confidence in his team's ability to continue to improve.
"There's no shortness of talent out there," Durocher said. "We have to stop thinking about it, and go out there and react and get pucks to the net, get bodies to the net and be hard to play against on that power play situation."
"You're not always going to score if you're moving it around those three or four extra passes, you've got to get it to the net," he said. "You've got to get the brummy goals as well as the fancy ones."