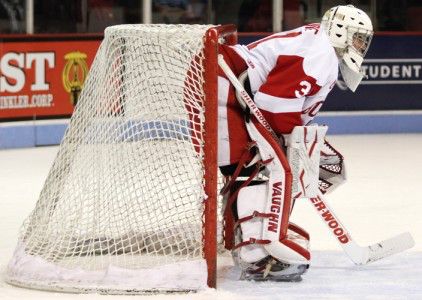 Too much of a good thing
Any time a team has a surplus of capable players at a position, someone is bound to note that this is a good problem to have. BU coach Jack Parker acknowledges that that is true from a coach's perspective, but less so for the two defensemen, junior Patrick MacGregor and senior Ryan Ruikka, who are competing to lock down the Terriers' sixth defensive spot.
"We have a nice problem, but it's not nice for the two guys who are worrying about whether they are in the lineup or not," Parker said. "And certainly Pat MacGregor deserves to be in the lineup every night … But so does Ruikka."
Of BU's 11 games so far, Ruikka has started 10 and MacGregor five (both played when freshman Ahti Oksanen and sophomore Alexx Privitera were out).
As an assistant captain, Ruikka would seem to have an edge, but MacGregor brings size — 6-foot-4, 230 pounds — to a defensive corps that sometimes lacks physicality.
"We are trying to figure out a body of work, not just one game," Parker said. "I would like to get it down to the point where we know, 'This is the top six,' and the seventh is going to have to accept that role … But we have not made that decision yet."
Rosen and Santana comfortable with revolving wingers
Less than halfway through the season, seniors Ben Rosen and Ryan Santana have already seen three different freshman wings rotate through the fourth line with them. Matt Lane, Mike Moran and Sam Kurker have all been fourth-liners so far, and the two seniors have adjusted to every change — although Kurker is now establishing himself as a member of the third line.
"Whether it's [Lane] or Mike Moran, they know how to play," Rosen said on Saturday, when Lane was his left wing. "They know to play defensively off of us, so it works out well. When we can match up against their [an opponent's] first line and shut them down, that lets our first line go against one of their worst lines and dominate them."
Parker has praised his fourth line's defense throughout the season, and Rosen said he and Santana make sure each of their new wingers understands his role.
"Santana and I are usually together, so we'll talk to the guy before entering practice during that week and kind of let them know how it is to be on our line and what Coach expects of us, and to just be a responsible, solid defensive line," Rosen said.
"It doesn't matter who is on our line, they usually adapt pretty well to it," he added.
Maguire named Rookie of the Week
After a shutout win over St. Lawrence University that brought his save percentage up to .910, freshman goalie Sean Maguire was named Hockey East Rookie of the Week this week.
Maguire made 21 saves against St. Lawrence and has allowed five goals in his last three games after a rough first outing in New Hampshire. Freshman Matt O'Connor had a stronger start to the season and his collegiate career in net, but Maguire has gradually gotten his feet under him and earned, at least, consideration for a start against Boston College next weekend.
"Maguire deserves to be able to play," Parker said. "We've been trying to get them  both [Maguire and O'Connor] games at the beginning of the year this year. You can't judge anybody on one game — and [Maguire] had the bad game against UNH — but he has steadily improved since then."
Defenseman Matt Grzelcyk also received the weekly honor this year.