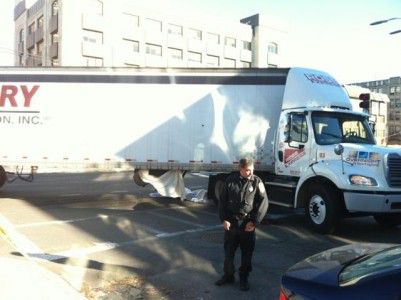 A Boston University student was killed in a bike crash involving a tractor-trailer truck on West Campus Thursday morning, officials said.
Boston Police responded to a call at about 8:36 a.m. regarding the accident involving a tractor-trailer truck at the corner of Commonwealth Avenue and St. Paul Street, according to the BPD News blog.
The victim is College of Communication graduate student Chris Weigl, BU spokesman Colin Riley said. Weigl, 23, was a first-year student in the photojournalism program.
BU President Robert Brown notified students in an email of the tragedy and expressed sympathy for those affected directly by the loss.
The BPD is investigating the circumstances of the incident, and the 900 block of Commonwealth Avenue is shut down to the public.
A BU Alert was sent out before 10 a.m. notifying students that Commonwealth Avenue has been shut down for all vehicular traffic east bound from Pleasant Street to Saint Paul Street due to the accident.
Marc Kayor, who lives nearby, said his mother broke down in tears when she saw the body.
"My mother was crying. She didn't even see it and said something happened," he said. "So I took her upstairs, and when I came down I was like, 'Oh man.'"
Melissa Adan contributed to the reporting of this article.
CORRECTION: The article initially stated that the cyclist was 26 years old. However, he is reported to be 23 years old. The article has been updated to reflect the correction.