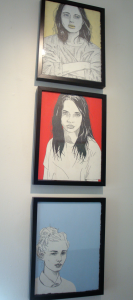 "Both artists and skateboarders sort of live on this thing, where they're obsessed with something that's not traditionally a job or is definitely gunna give them money or is gunna support them in any way, but from a young age I think a lot of kids start skateboarding, and then they just become obsessed with it, and that's how art is too, for some people," says artist Erin M. Riley.
The "Crush" art exhibit, featuring pieces by Riley in addition to works by fellow artists Pakayla Rae Biehn and Jason Andrew Turner, opened on December 2 at the Orchard Skateshop's Extension Gallery in Allston.  When I first heard about "Crush," I admit I was a little confused—a gallery in a skateshop?
The Extension Gallery is a fundraising effort by Extension, a charity which aims to support the skateboarding community of Boston by "making skateboarding more accessible in the city of Boston, with a focus on skatepark advocacy, board donation efforts, and skateboard education and enrichment programs," according to their mission statement.
"Crush" is a fascinating display of juxtapositions—black and white, light and dark, reality and illusion, smooth and rough and is striking in its entirety. Turner's intricate use of contrasting detail makes for a bold progression to Biehn's profoundly ethereal double-exposure paintings, which then transition into Riley's candid, texturally-unique tapestries.  Despite the differences in medium and composition, all of the pieces seem to flow together in a natural order.
"Originally I think it was gunna be just my work, but since the gallery is set up with three rooms, I thought it would be a good opportunity to show other artists that I really love, and who I've never really met before, and whose art goes well with mine, and so I asked Pakayla and Jason to show with me," says Riley.
The exhibit begins with Turner's pieces. His experimentation with mechanical pencil creates a deeply-detailed, "no strings attached" experience for the viewer. What you see is what you get, but the most interesting part about Turner's work is that every time you look back at a particular piece, you see something new and your perception of the collection as a whole is altered.
Turner experiments with size and texture, color and contrast, and shape and symbol in order to create a comprehensive set of pieces that is unified in appearance, but varied in emotion. Many of his larger works, which depict similarly-detailed women in various states of serious expression, add coherence and intensify the emotional reaction of looking at the collection.
One piece in particular stood out to me—a simple, medium-sized drawing of a girl against a baby blue background. Her expression is less pensive, less intense than those of the other girls, and her countenance and disposition are more polished. Her hair is lighter and more pristine, swept back from her face rather than pushed in front.
"The girls are just so complicated and beautiful and sort of brooding, but you still kind of want to know who they are and meet them," Riley says of Turner's work.
Next in line is Biehn's collection which, despite being quite small compared to both Turner's and Riley's, is equally moving. Her paintings, which are modeled after double-exposure photography, are alternatingly vivid and subdued. The appearance of movement and transition in her pieces draws you in and then leads you into the complexities of each painting, each one bringing out distinct elements of glittering light, swift motion, and enigmatic spirit.
"Her work is so, it's just so beautiful and incredible, that you need the time to really look at it and experience it," says Riley.
Biehn's painting of an open hand, seemingly clutching an arrangement of flowers, is at first glance beautiful, and at second glance, disturbingly so. The bright red of the fingers builds a sort-of deep energy within the canvas, focusing attention on the give-and-take of color and texture. Biehn's work has a tangible pulse, which is at times strong and reverberating, and at others, quiet and hopeful.
Riley's own work comes last in the collection. The visual coherence of her collection is to be commended in its own right, but beyond the colors and composition lies a much greater sense of thematic unity.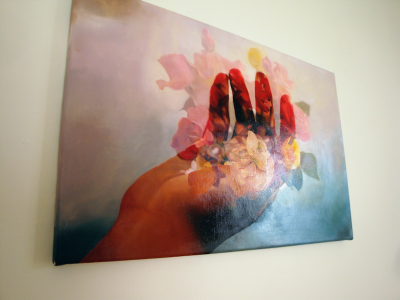 "I like that I'm representing girls in the ways that not a lot of people are talking about… I like sharing the images that guys sometimes request through text messages or things where you might take the pictures, send it somebody, and then delete it, or save it and send it to another guy. I like using the images that a lot of young people are taking, but nobody's really seeing," Riley says of her own work. "Revealing these private moments is something that I really like to do, whether or not it's uncomfortable for people, but I kind of like that… just sort of presenting the images that I find, that I connect to, and that maybe some other people might connect to too on a personal level, or relating to relationships or love, or crushes or anything like that."
The exhibit takes its name from one of Riley's pieces—a tapestry depicting a pink and white corsage.
"I was just thinking about crush as in crushing on somebody, but also destruction, and the ways relationships sort of go down these strange paths," explains Riley.
"Crush" is surely a fierce exhibition, both in its command of creative and fresh artistry and in its goal in serving the initiatives of the Extension Gallery.
"The Orchard Extension Gallery takes a pretty low commission, so any sale is such an honor to be able to make it go towards a non-profit," says Riley of the gallery's role in supporting Extension.
"Crush" is truly an experience—it helps foster an appreciation for technique and innovation, experimentation and imagination, not just in the pieces themselves, but in the art of skateboarding the gallery helps to promote.
"I think having venues to show in is so important for young artists," says Riley. "I think that's one thing that's really cool about Orchard, is that they bring in artists that might never normally have shown in Boston, and really make an effort to show cool stuff that doesn't have to be super smart or super intellectual, it's just awesome looking."
"Crush" will be on display at the Orchard Skateshop Extension Gallery through January 7.