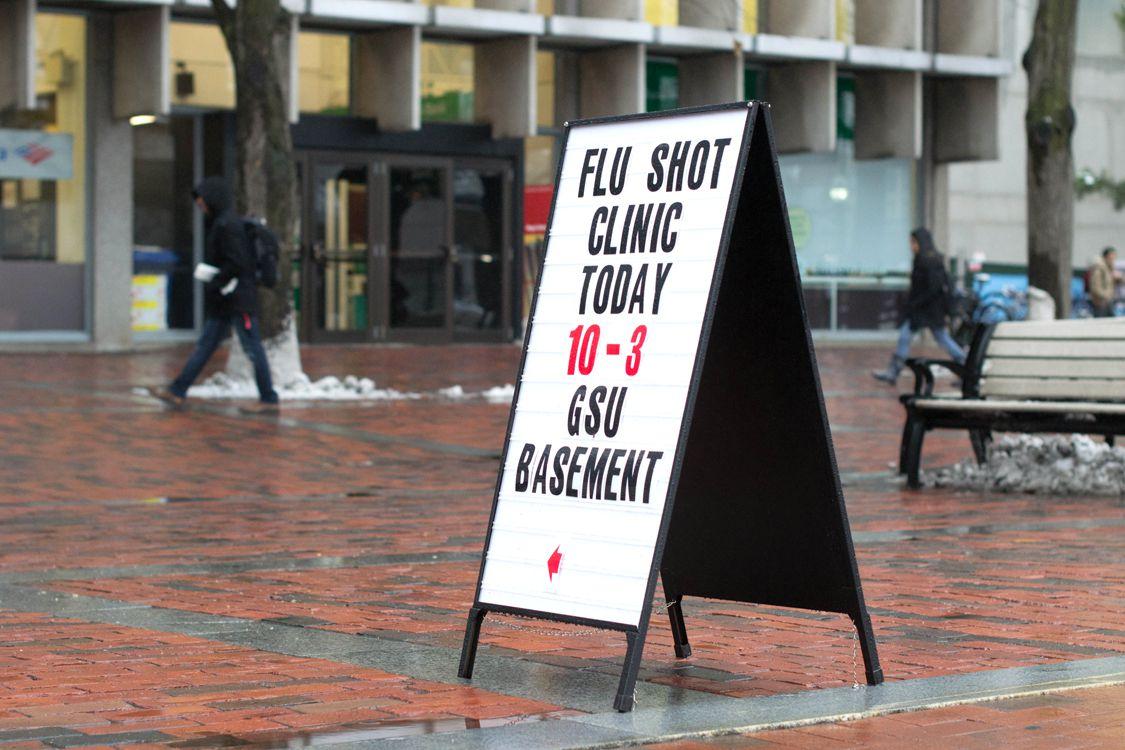 The City of Boston opened 24 free flu clinics this past week and vaccinated over 7,000 people in response to Mayor Thomas Menino's declaration of a public health emergency regarding the epidemic.
The Boston Public Health Commission reported more than 950 cases of the flu among Boston residents since Oct. 1, and 25 percent of those sick with the flu have felt sick enough to undergo hospitalization, according to a press release from Menino's office.
"We took swift action to raise awareness about how severe this year's flu season is, and we're thrilled that so many people responded by going out and getting their flu shot this weekend," Menino said in a
statement.
"The free public flu clinics were a great success, and I'm proud to have such strong partners in our community health centers."
Eighteen deaths have been reported in Massachusetts as a result of the flu this season, and eight of those fatalities were in Boston, according to Nick Martin, director of communications of the Boston Public Health Commission.
Seven were senior citizens and one was a child under the age of six, he said. Both of these age groups carry the most risk during flu season.
Walgreens has provided hundreds of vouchers to the Boston Public Health Commission , which helped at least 7,000 people last weekend.
Each voucher is good for one person over the age of 18 and are used by those who do not have health insurance or cannot afford the flu shot, according to the press release.
Martin said young children are at risk for the flu, but cannot be vaccinated in a pharmacy.
"The issue with the vouchers is that pharmacies across the state actually aren't allowed to vaccinate kids under the age of 18, it's actually a state law and this is also the case in other states," Martin said. "In any case there is still a lot of opportunity for people to get free or affordable flu shots so we really encourage people to get in touch with their local community health centers."
Martin said although there were only 70 reported cases of the flu last season, the intensity this year comes from the different strain of the flu that has been circulating, even though we are only halfway through the season.
"I think one of the reasons for the dramatic uptake is that the strain that is circulating Boston is known to be one that causes more serious illness," Martin said. "So that is what is called a type AH3N2 strain and that's the one that seems to be circulating here."
Anne Roach, media relations manager for Massachusetts Department of Public Health, said there is no way to predict how the flu will continue to affect the city.
"The flu can be unpredictable, and it is too soon to tell if flu rates will continue to rise or have reached their peak," she said.
Allison Smith, a receptionist who lives in Boston, didn't get the vaccine, but said she got the flu and it was worse than she expected. "I didn't get a vaccine," Smith said. "I just didn't think I would
need one. I don't get sick that often and I haven't had the flu in forever."
Though the vaccine is the best way to protect yourself against the flu, it is also important to continually be washing your hands, and to cough or sneeze into your elbow rather than your hand or out in the open air, Martin said.
"The best way to help is if you are feeling sick at all stay home from work or school," Martin said. "Because the flu is something that spreads — because the better we are at containing it and the more that we can help the city in general."