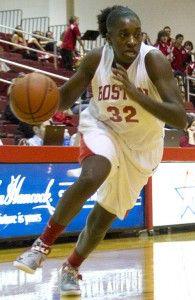 Coming off a victory over the University of New Hampshire on Saturday that extended its winning streak to a season-high 13 games, the Boston University women's basketball team is primed to take on its biggest challenge yet against the University at Albany at home on Wednesday.
BU (16–3, 6–0 America East) and Albany (14–3, 5–0 America East) are the only two teams remaining in the America East Conference that have not lost a game in conference play.
Despite the tough task ahead and the high stakes involved, BU coach Kelly Greenberg said she does not view this game differently from any other matchup this season.
"It's as important to us as the next game, to be honest with you," Greenberg said. " … We are focused on understanding that every game means so much to us because of not being in our conference tournament. "
The Terriers have had a successful run against America East opponents so far this season, winning all six of their conference games.
One of the biggest factors in the Terriers' success in America East has been senior guard Chantell Alford. Her play against the University of Maine and UNH last week — when she averaged 17 points, 5 rebounds, 2.5 assists and 2.5 steals in the two games — earned her the title of America East Player of the Week for the fifth time this season. Alford is the leading scorer in America East, averaging 17.1 points per game.
BU's great play against America East teams has helped push its impressive win streak to 13 games, the fourth longest win streak in all of Division I basketball this season. It is also BU's longest win streak since the team went on a 13-game win streak from Jan. 4 to Feb. 15 during the 2011-12 season.
Fittingly, the team that ended the Terriers' winning streak at 13 games last season is the same team that will try to attempt the identical feat this season: the Albany Great Danes.
Albany, who has won all five of its games against America East opponents this season, is currently on a six-game winning streak —  the second-longest winning streak among America East teams.
The key to Albany's success this year has been a mix of opportunistic scoring and a stout defense.
Led by forward Ebone Henry (13.5 points per game) and 6-foot-8 sophomore Megan Craig (11.6 points per game), Albany possesses the highest-scoring offense of any America East team with 66.6 points per game, as well as the highest scoring margin in the conference with a +17.6.
However, it is Albany's defense, anchored by Henry — the two-time America East Defensive Player of the Year — that has Greenberg's attention.
"They really score a lot off their defense," Greenberg said. "We're really preparing for their offense by being ready for their defense."
The Great Danes allow the fewest points of any America East team, only giving up 49 per game.
The Great Danes are also excellent at defending against 3-pointers, only letting opponents make 77-of-286, or 26 percent of shots from beyond the arc.
For BU, a team that takes advantage of its excellent 3-point shooting ability, Albany's defense could pose a big problem. However, Greenberg said she is not worried about executing on offense.
"As a coaching staff, we don't get caught up in the numbers," Greenberg said. "We know that they're a good defensive team, we know that they hold team's [field goal] percentages down, but that's not something that we'll talk a heck of a lot about … We're not going to do anything differently and just see how the game plays out."
For Greenberg, the biggest key to a Terrier victory on Wednesday does not consist of overcoming Albany's stout defense, but rather in winning the battle on the boards.
"[The key] is definitely our rebounding," Greenberg said. "If there is one thing that I think Albany does extremely well, [it] is crashing the boards. They have three very good forwards who really get a lot of points off of offensive boards, so limiting [them] to one-shot opportunities … is definitely a key for us."