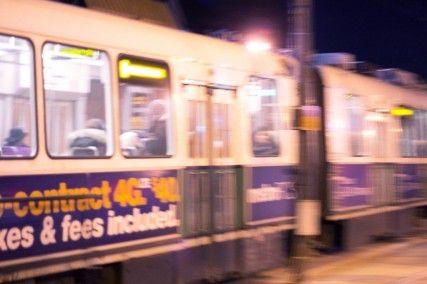 T riders could experience increased hours of services if lawmakers choose to adapt Mass. Gov. Deval Patrick's proposed transportation reform plan.
The transportation plan allocates about $1 billion to the Massachusetts Department of Transportation, allowing, among other things, the T to extend its service hours until 2 a.m. on weekends, increasing ridership.
The plan is in response to the "Your Vision, Our Future" public meetings with riders that have been occurring throughout the city.
Currently, the T makes more than 1.4 million trips on more than 3,000 buses, commuter rail, subway, ferries, and paratransit vehicles everyday, according to a Massachusetts Bay Transportation Department press release.
Sara Lavoie, a spokeswoman for the MBTA, said if funds are freed up, longer T hours could become a reality.
"The MBTA is investigating providing service beyond 1:00 am on a limited basis," she said.  "If additional operating funds are identified, major bus routes and the most heavily travelled portions of the subway and light rail systems will be considered as part of a pilot program."
The increased service would require substantial additional funding, and the MBTA currently requires about $300 million per year to pay existing debt and operating costs, according to the governor's plan.
Still, Lt. Gov. Timothy Murray said transportation is vital for a strong community.
"Transportation is the enabling network of our economy, creating and supporting jobs in all regions of the Commonwealth," Murray said in statement.  "The MassDOT Board has outlined how far we've come and how far we have to go to ensure a safe, reliable and regionally equitable transportation network. Now we all need is to work together to make this vision a reality."
Kelly Smith, MBTA deputy press secretary, said additional cost would depend upon the expansion of the extra service hours.
"The cost of service will be determined once operating schedules and frequencies are identified," she said. "Costs associated with additional service hours include vehicle fuel, power, personnel, cleaning, station and parking area lighting and increased customer service and Transit Police hours to ensure passenger safety."
Smith said T maintenance work would not be affected by the possible new service hours.
"The MBTA would ensure that any additional scheduled service does not reduce the ability to perform track, vehicle and station maintenance functions, which currently take place during the overnight period," she said.
The funds for the proposed service expansion come from Patrick's transportation reform plan.  The revenue would have to be generated from an increase in rider fares and overall tax increases.
Patrick said this plan takes the necessary steps to improve the struggling transportation system.
"The plan released today is a stark, clear-eyed, non-partisan presentation of the facts," he said in a statement. "If we are serious about improving our transportation system for a generation, then we have to be willing to make the necessary investments."
The plan also calls for $2.4 billion over the next 10 years to replace old train cars and $850 million to replace buses, among other things.
The Green Line has been eyed for expansion, as has South Station, according to the plan.
Some Boston University students said they would enjoy later service hours for the T, and said it would enhance safety in the city.
"Young people are always out late, and not having the T is dangerous and an inconvenience," said Lucia Olmos, a sophomore in the College of General Studies "And it is really cold, so having the T would be nice."
College of Engineering freshman Ian Chang also said expanded hours would create a safe alternative to walking.
"It would be great if you are having a late night out and need a safe way to get back," he said. "Especially after all of the robberies, you don't want to walk."