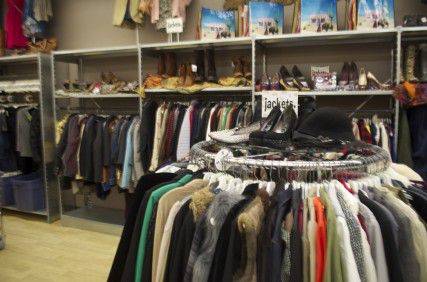 Buffalo Exchange clothing retail locations are now accepting authentic fur apparel as donations to support rehabilitation centers for injured and orphaned animals.
The Buffalo Exchange coordinates Coats for Cubs, an annual donation that collects, ships and disassembles furs to be donated as bedding to animals at rehabilitation centers across the United States, according to a company press release from Jan 21. Now in its seventh year, the drive runs from Jan. 15 to Earth Day, April 22.
Kendall Cullom-Herbison, a store manager for the Buffalo Exchange's Allston branch, said Coats for Cubs has collected more than 7,500 furs since the company joined with the Humane Society of the United States on the effort in 2006. In 2011 alone the program distributed 1,000 furs and, in 2012, collected 1,200.
Kurtis Durfey, the Buffalo Exchange's design and marketing manager, said the company has a team that manages fur shipments and divides supplies among the rehabilitation centers affiliated with the drive that expressed a need for furs.
"The results are pretty telling," Durfey said. "I think that our customers specifically are growing more aware of the need to contribute and are spreading the word. It has an impact on society's perception of fur."
Coats for Cubs, fashion designers, retailers and the Humane Society of the United States endorsed the elimination of a loophole in the fur labeling trade in 2011, according to the press release. The collective also endorsed the Truth in Fur Labeling Act of 2010, which was enacted in March 2011. The act eliminated labeling exemptions for products that contained relatively small amounts of fur.
Cullom-Herbison said 44 rehabilitation facilities are working with the drive to bring furs to injured and orphaned animals.
Lisa DeFreitas, store manager for the Buffalo Exchange's Somerville branch, said her store received four fur coats in the first week of the drive. She said customers have been very supportive of the drive overall.
"People are very happy to help out the animals, basically," she said. "People have grandmas with old fur coats that they don't know what to do with."
Customers expressed support for the drive, but some were skeptical of its ability to achieve success.
"It's a little weird," said Lauren Harless, an Allston social worker. "I can see it as a way to reciprocate, as a way to give back to the animals and, in a way, right the wrong."
Ellie Baumgartner, an Allston waitress, said the drive was thoughtful, but hard to execute.
"I think it's a fine cause," she said. "But I think that fur has gotten such a bad reputation in the past few years that it'll be hard to find people who would be willing to donate them."
DeFreitas said she rarely saw people still donning real fur coats.
"People still have a lot of them left behind by grandparents," she said. "So we get a lot of people who are happy about having a place to drop those things off."
The Buffalo Exchange's Allston branch has not been faring as well as its Somerville counterpart.
"Thus far we have not had any donations," Cullom-Herbison said in an email, "but the drive just started on Jan. 15."
However, she said she remains optimistic for the remainder of the Coats for Cubs campaign.
"We continue to educate our customers about the drive in hope for a successful turnout," she said.