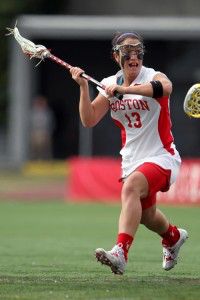 After a junior season where she earned a spot as an Intercollegiate Women's Lacrosse Coaches Association All-American, Boston University women's lacrosse senior attack Danielle Etrasco earned a spot on the 2013 United States Women's National Lacrosse Team Tuesday.
Etrasco, who made the team after the Champion Challenge Weekend at the ESPN Wide World of Sports Complex in Buena Vista, Fla., is the first Terrier to make it onto the final Team USA lacrosse roster. As a member of the team, she will participate in the 2013 Federation of International Lacrosse World Cup.
BU lacrosse coach Liz Robertshaw will join Etrasco at the FIL World Cup as the assistant coach for Team USA.
During the Champion Challenge, Etrasco scored three goals to help the U.S. National team go 3–0 against Team England and both the NCAA national champion and runner up — Northwestern University and Syracuse University, respectively.
During the 2012 season, Etrasco scored 50 goals for the second straight year and had two five-goal games. The Massapequa, N.Y., native also earned a spot on the Tewaaraton Women's Watch List and received America East First Team All-Conference honors. The U.S. National Team will compete next in an exhibition game against Team Canada during the U.S. Lacrosse Women's National Tournament at the end of May at Lehigh University.