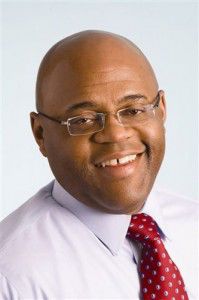 Mass. Gov. Deval Patrick has chosen William 'Mo' Cowan, his former chief of staff, as the interim senator to fill Secretary of State John Kerry's vacant Senate seat until a special election is held June 25.
"Today I have the great honor, privilege and personal pleasure to appoint Mo Cowan as United States senator in the interim until that special election," Patrick said in a press conference on Wednesday.
Cowan served the Patrick-Murray administration as both chief of staff and chief legal counsel. He is a native of North Carolina and graduated from Duke University in 1991. He came to Massachusetts to attend Northeastern Law School, from which he graduated with his law degree in 1994. Cowan was hired by Patrick as his legal counsel in 2009. In 2010, he was appointed to chief of staff. He left the position in November.
"Mo is a highly respected public citizen," Patrick said in the press conference. "His service on the front lines, in our efforts to manage through the worst economy in 80 years and build a better and stronger Commonwealth for the next generation, has given him an intimate understanding of the issues we face."
Cowan succeeds Kerry, who formally resigned from his senator ial position Tuesday after 28 years of service.
Cowan said he is honored and humbled by the appointment and promises to represent the people of Massachusetts.
"I accept this temporary post confident in the knowledge and perspectives that I have acquired working closely with you [Gov. Patrick] and the Lieutenant Governor," Cowan said at the press conference. "You in the Commonwealth should be assured that I now go to our nation's capital, ever mindful of what matters to the people of Massachusetts."
He said Kerry's work will not go unfinished and he is eager to work with his staff.
"Secretary Kerry and his Senate staff have done extremely well by the people of Massachusetts and working with that staff, I aim to continue that work during the next few months," he said.
Cowan is the first African-American to represent Massachusetts in the Senate since Edward Brooke held the position for two terms from 1966 to 1978. Cowan joins U.S. Sen. Tim Scott of South Carolina in the Senate, making them the first two African-Americans tto serve in the Senate simultaneously.
Mass. Lt. Gov. Timothy Murray said choosing the interim senator was a tough decision.
Cowan said he was offered the position Tuesday, but knew he was on the long list of possible candidates for the position. He said he is not running for office and does not plan to in the future.
Sen. Elizabeth Warren offered her congratulations to Cowan and said she looks forward to working with him, according to a press release Wednesday.
"I am very pleased to welcome Mo Cowan to the Senate," Warren said. "As former chief of staff to Governor Patrick, Mo brings a deep knowledge of the issues facing the people of our Commonwealth to the Senate,"
Rep. Ed Markey said in a press release he believes Cowan will continue the work of Kerry and represent the people of the Commonwealth.
"I applaud Governor Patrick for his choice of William 'Mo' Cowan as interim U.S. Senator," Markey said. "I know Mo personally and am confident he will continue the great work of John Kerry and stand up for the values of Massachusetts voters."
David Palmer, professor emeritus of international relations and political science at Boston University, said he was not expecting Cowan to be chosen, and his appointment was a poor decision.
"Patrick was probably miffed that [Barney] Frank actually lobbied for the appointment, not that he was going to choose him anyway," Palmer said.
Patrick said there were many capable candidates for the post.
"There were other very capable candidates on the list including [former] Congressman Frank," he said. "All of whom, because of how capable they were made it a difficult choice, but I am confident that this is the right and best choice for us."