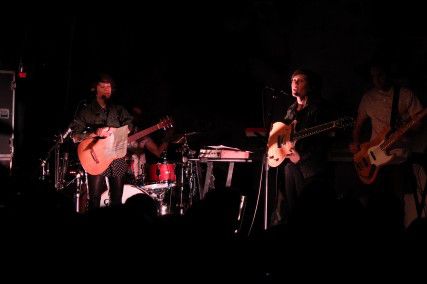 Tegan and Sara Quin have been at it for about fifteen years now as steadfast veterans of the indie rock scene. Sunday night, the Canadian twins brought their beloved act to Brighton Music Hall in celebration of the upcoming record, Heartthrob.
MTV made an appearance to film the intimate set as part of its "Artist to Watch" series– and the duo is an artistic act to watch indeed. You might call MTV behind the times in branding T&S as up-and-coming, but the band's newest LP, released just this week via Sire/Warner Bros. Records, marks a significant turn of genre for a band seven albums into crafting its sound.
Tegan Quin recently told Spin that she had always thought of Tegan and Sara as a pop act, and withHeartthrob, there's no mistaking it. Tracks like "I'm Not Your Hero," "Drove Me Wild," and "Closer" feature synth-heavy production, EDM-esque backing beats and choruses bigger and bolder than the band's previous work. Through working with producers like Greg Kurstin (P!nk, Kelly Clarkson) and Mike Elizondo (Dr. Dre, Eminem), the band has realized its pop potential and, it seems, may even make a crossover hit out ofHeartthrob.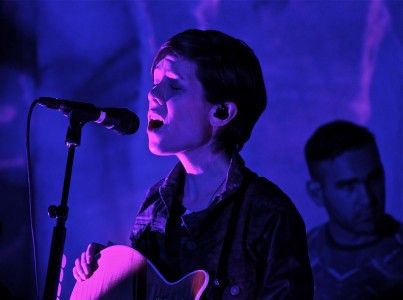 I never thought I'd find myself wanting to dance at a Tegan and Sara show (I admit I may have shed a tear or ten the first time I heard The Con in high school), but the new material seemed to fill Brighton Music Hall on Sunday with an unparalleled energy. The band seemed excited to be with diehard fans, revisiting material as old as 2002's "Living Room" and taking the time in between songs to answer questions submitted by Twitter followers. Unfortunately, the show had to be cut short because Sara had caught a nasty chest infection that prevented her from singing; because the sisters trade off on vocals, they only played the "Tegan" songs from the catalogue and had Sara sing back up when she could swing it.
Even without the full Tegan and Sara experience, it was undeniably cool to see veterans like T&S in such an intimate setting. Tegan's famous rambling stage banter filled the gaps between songs with comic relief and, although I had a hard time lifting my elbow in such close quarters among the sold-out crowd, I felt like I had been invited into their living room.
Although they've been around for a long time, it seems like it's just the beginning for Tegan and Sara. All I can say is, I'd like to see the likes of Katy Perry or Robyn try to top Heartthrob as one of the best pop records of the year. I know it's still January, but give it a listen, and I'm sure you'll share my confidence.