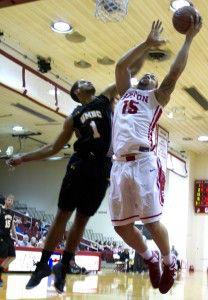 The Boston University men's basketball team will start its final tour of the America East Saturday afternoon in West Hartford, Conn., when it plays University of Hartford for the second time this season.
In their first meeting of the 2012-13 season, Hartford (11–9, 4–3 America East) defeated BU (11–10, 5–3 America East) at Case Gymnasium, 77–74. The game was close for the first half and into the second half until BU started to pull away. After a 3-pointer from sophomore forward Malik Thomas at 11:37 in the second half, the Terriers had their largest lead of the game, ahead of Hartford by a score of 57–49. But it went downhill from there for BU.
With five minutes to go in the game, the Hawks went on a run that ended the Terriers' lead and eventually buried a BU squad that had been consistently playing poorly at the end of games.
"We didn't close the game out," said BU coach Joe Jones of the matchup. "We turned them over, but we didn't get stops when we needed, so overall we didn't defend great."
Junior guard D.J. Irving led the Terriers with 17 points in the game, while freshman guard John Papale added 14. BU was heavily outrebounded and outplayed down the stretch. Junior forward Dom Morris, the second highest scorer on the season for BU, had only four rebounds and eight points.
This time around, The Terriers have momentum — in part thanks to Morris performing at the top of his game — and the Hawks are starting to stumble.
"I think we are better now than a month ago when we played them," Jones said. "We have definitely played much better since then, outside the Stony Brook game."
Since its last loss to Hartford, BU has gone 5–1 in America East play, only losing to Stony Brook University (16–7, 7–1 America East) Jan. 15.
In the six-game span, BU defeated the University at Albany on the road in overtime while also making quick work of low-ranked teams such as Binghamton University, University of Maryland-Baltimore County and the University of New Hampshire.
Morris is coming off one of his strongest performances of the season. He led a sluggish BU team with 19 points in a victory over UMBC.
On the other hand, Hartford has gone 2–3 since its last meeting against BU. The Hawks lost to both Albany (16–7, 5–4 America East) and UMBC (4–16, 2–5 America East).
Hartford center Mark Nwakamma leads the Hawks in scoring and rebounding, averaging 14.4 points per game and 5.4 boards. In the last meeting, BU controlled Nwakamma and forced him into turning the ball over early in the game.
In the Jan. 5 matchup, Hartford's scoring came from unlikely sources in sophomores Wes Cole and Nate Sikma. Cole, averaging 6.6 points per game, put up 22 points against BU. Sikma, averaging 6.7 points per game, scored 19. Nwakamma recorded 13 points and four rebounds.
"We changed them around a lot and those guys got open," Jones said. "We just have to do a better job of keeping guys in front of us. Obviously, we don't want a guy going for 20 against us. Nwakamma is a good player, so we don't want to leave him open, but we don't want their 3-point shooters getting wide open looks either."
Another potential threat for the Hawks is guard Yolonzo Moore II, who is the second leading scorer for Hartford. He is averaging 10.5 points per game in addition to leading the team in 3-point percentage (.432) and assists (51).
But BU has the potential to counter Moore's 3-point prowess with its own league-leading 3-point shooting. BU currently leads America East in 3-point percentage (.380) and 3-pointers made (168).
Tipoff on Saturday is set for 7 p.m. at Chase Arena at Reich Family Pavilion.