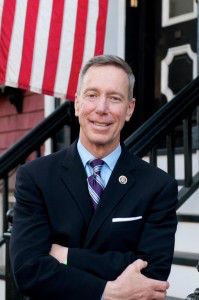 The pool of candidates for this summer's special Senate election is beginning to grow as a number of political personalities from the Commonwealth have announced their intent to either run or abstain from campaigning toward John Kerry's former position.
U.S. Reps. Edward Markey and Stephen Lynch — both Democrats — are the only two candidates to announce they will be running in the special election so fair.
Lynch announced his candidacy Thursday and kicked off his campaign with a YouTube video that highlighted his beginnings and accomplishments.
Markey welcomed Lynch to the race in a statement released Thursday.
"I welcome Stephen Lynch into the race for U.S. Senate," Markey said in the statement. "I urge him to join me in committing to the people's pledge to prevent outside special-interest groups from injecting millions [of dollars] into this campaign."
Connor Yunits, spokesman for the Lynch campaign, said the Democratic primary will be a challenge for Lynch, but he is confident Lynch will win.
"It's going to be a heck of a race. Congressman Lynch is definitely the underdog, but he's the underdog in every race he has ever won and he has never lost an election," Yunits said. "We've got a lot of work to do in 90 days and we are out there doing it."
Markey said he was interested in the position Dec. 27, but formally announced Saturday he would be running for the vacant Senate seat.
Tim Buckley, spokesman for the Massachusetts Republican Party, said Markey has a lot to prove to voters.
"The most interesting thing is that you have Ed Markey declared, and he has very little to show for it," Buckley said. "After 36 years in
Congress, he might have a hard time convincing voters he deserves six years in the Senate."
On the Republican side, no candidates have announced their intent to run in the election. Former Sen. Scott Brown, the Republican favorite, announced Friday he will not be running.
Former Mass. Gov. William Weld is believed to be the next viable candidate after Brown.
Some other rumored candidates include former Mass. Lt. Gov. Kerry Healey, former Navy SEAL Gabriel Gomez, and FOX News contributor Keith Ablow.
Former Mass. Sen. Richard Tisei, announced Saturday he will not run for the seat.
Ablow said he is waiting for other potential candidates to make a decision before announcing his own.
"I won't consider it in the depth it deserves until after I know their [other Republican candidates'] intentions, which I don't," Ablow said. "I haven't sought them out, and they haven't sought me out, but maybe it's time that I do."
While naming William 'Mo' Cowan as interim senator Wednesday, Mass. Gov. Deval Patrick announced the special Senate election would take place June 25 to replace Kerry. Kerry was confirmed as Secretary of State Tuesday with a vote of 94-3 in favor of his appointment.
"This is something we did three years ago after Sen. [Ted] Kennedy died," said Brian McNiff, spokesman for Mass. Secretary of State William Galvin. "That was the election that Scott Brown won. It'll be the same thing — this rather truncated election season, but we'll have the primary and we'll have the general election."
McNiff said no candidates have submitted nomination papers, which require the candidates to gather 10,000 voter signatures within four weeks in order to appear in the primary Apr. 30.
"The first indication is when people take out papers, but really we won't know until they return the papers," he said.
David Palmer, emeritus professor of international relations and political science at Boston University, said special elections generally favor minority parties, so more Republicans could turn out for the election in June. "But that does not necessarily mean that the Republicans will win,"
Palmer said. "It's a general perception that, because Massachusetts was so strong for Obama last time and because Warren beat Brown in the Senate election, that the Democrats are up for the Senate seat again in Massachusetts."
Palmer said another Democrat victory is a possibility.
"My guess is that whoever the final candidate is — probably Markey, but it could be Lynch — will probably see an outcome that would favor the Democrat," he said.