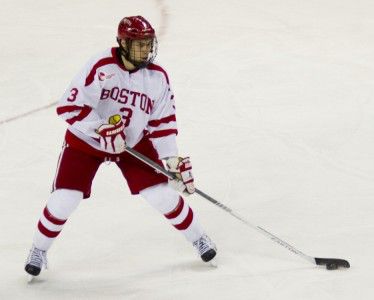 Ahti Oksanen may only have learned the word "Beanpot" recently, but the freshman defenseman from Finland understands the significance of the Boston University men's hockey team's matchup with Northeastern University Monday night.
"They have told me quite a lot about it," Oksanen said of his teammates. "I'm starting to feel as excited as the other guys."
No. 9/11 BU (13–10–1, 10–7–1 Hockey East) will face Northeastern (7–13–3, 4–11–3) at 5 p.m. Monday at TD Garden. Senior defenseman Ryan Ruikka is the only Terrier who has won a Beanpot, as BU has uncharacteristically fallen short of the trophy for the last three years. Boston College won in each of those three years.
One Terrier who could easily fill Oksanen in on Beanpot history is his classmate, Needham-born center Danny O'Regan. O'Regan's father, Tom, was the tournament MVP for BU in 1982, and O'Regan said he has been going to Beanpot games since he was about eight years old.
"I actually watched the game, the finals where he was the MVP," O'Regan said of his father. "I think he had three goals or something. He just tells me it's unbelievable. There's nothing like it, at the Garden, in front of kind of a packed house."
Meanwhile, freshman defenseman Matt Grzelcyk, who grew up just across the Zakim Bridge from the Garden in Charlestown, said he has never been to a Beanpot game. He has seen them on TV, though, and said he expects a spirited crowd, especially with BU facing Northeastern.
"A lot of fans get to go, and there's a lot of chants back and forth between fans, and it's probably really cool to be a part of," Grzelcyk said.
BU-Northeastern matchups rarely lack spirit, even though the Terriers are in the middle of a tight battle for a top-four spot in Hockey East and the Huskies are tied for last place. The Terriers slipped to fourth place in the conference Saturday when Merrimack College topped the University of New Hampshire to move one point ahead of them.
"Especially with what happened last game [against Northeastern], it was a pretty close game, and got out of hand the first two periods, but I thought we ended on a strong note," Grzelcyk said.
Northeastern handed BU a 6–5 loss on Jan. 18. Husky captain Vinny Saponari, a transfer from BU, scored the game-winning goal, as he did in last year's regular-season finale after BU eliminated Northeastern from playoff contention the night before.
"We weren't physical enough," O'Regan said of BU's Jan. 18 loss. "They out-hit us, so we'll just try to be better defensively."
The day after that victory, the Huskies were thrashed 9–3 by Boston College. Since then, they have tied and lost in overtime to the University of Massachusetts-Lowell. Most recently, they were stonewalled by University of New Hampshire goalie Casey DeSmith on Friday.
"Northeastern played very, very well against New Hampshire," said BU coach Jack Parker. "They got 48 shots against New Hampshire in a 3–1 loss, so they're playing really well right now."
BU, meanwhile, took a win and a tie from a weekend series with Providence College, then lost a disaster of a game to the University of Massachusetts, 5–1, on Friday.
A Beanpot win could be the kick it needs to get back on track as the season winds down.
"I think winning not only this first game, but getting the chance to play next Monday would be huge for us going forward," Grzelcyk said. "Huge momentum, especially with the crowd getting into it."
Since winning the Beanpot in 2009, BU lost twice in the finals and once in the first round. The last time a team other than BU or BC won the Beanpot was when Harvard took the trophy home in 1993. Northeastern last won in 1988.
Parker has won 21 of his 39 Beanpots as a coach (and also won three as a player). He said the tournament has not lost its appeal for him after all this time, though.
"I was very excited when I won my first Beanpot as a coach, and I was very excited when I won my last Beanpot as a coach," Parker said. "I'll be excited if we win this one. But I'm excited for my players. It's for them."
Grzelcyk said the biggest crowd he remembers playing in front of is the one he saw at the World Under-17 Hockey Challenge two years ago, when he played for Team USA against Canada in Winnipeg.
O'Regan recalled 11,000 or so vocal fans in green and black at North Dakota's Ralph Engelstad Arena in November.
The TD Garden holds 17,565, and while it might not be packed when the game begins at 5 p.m., even those Terriers who didn't grow up in New England know it will be rocking by the end of the game.
"[The] biggest crowd was probably North Dakota this year," Oksanen said. "But this is going to be the biggest crowd ever."