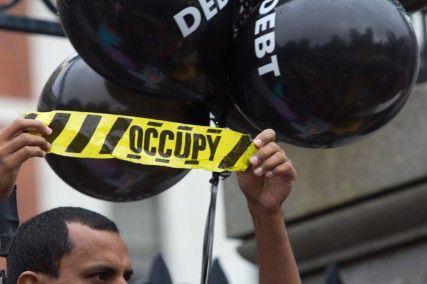 Five Occupy Boston defendants appeared in Boston Municipal Court Monday, contending that the arrest and removal of Occupy protesters last October by the Boston Police Department infringed on their constitutional rights of assembly and free speech.
"Arresting them and charging them with criminal conduct for exercising those rights was plainly unlawful and in violation of their constitutional rights to assembly and free speech under the First Amendment," stated a Friday press release from the National Lawyers Guild, the association from which attorneys have volunteered to represent the protesters.
The court appearance Monday brought the assignment of a new judge to the case, said Urszula Masny-Latos, executive director of the NLG. The planned agenda for Monday — ruling on a motion to dismiss the trail altogether — will now take place Feb. 11, she said.
"If he [the judge] grants our notion, then there will be no trial. However, if he denies our motion to dismiss, we will go straight to trial. Everything will be decided on Monday," Masny-Latos said.
The five Occupy Boston defendants, Andrea Hill, Ashley Brewer, Brianne Milder, Tammi Arford and Kerry McDonald were among 140 protesters charged with trespassing and unlawful assembly in October 2011, when the Occupy Boston encampment in Dewey Square was shut down, according to a Saturday press release from the NLG.
"In our opinion, Occupy Boston was a peaceful, political movement," Masny-Latos said. "As it's form of expression, it used occupation of public land set aside for this purpose."
Masny-Latos said Dewey Square was a public space intended for the people.
"Conservancy documents say it was designed to be a space for the people to assemble," she said. "By removing people from that land, it was a violation of people's rights."
The Boston Police Department began arresting protesters  Oct. 11, 2011 after handing out flyers stating that if the Occupiers did not comply with police orders, they could face arrest.
Boston Mayor Thomas Menino released a statement Monday hailing BPD's successful work during Occupy Boston.
"We're proud of the great work of the Boston Police Department during the Occupy Movement," Menino said in the statement. "Boston served as a national model, with protestors allowed to exercise their rights to free speech and assembly, and without any resulting violence."
The Greenway was created by the Massachusetts Legislature through Chapter 306 of the Acts of 2008.
"The Greenway shall be treated as a public park and a traditional open public forum without limiting free speech," states the legislation.
Four days before Boston Police evicted protesters from Dewey Square, the Greenway Conservancy released a statement regarding the Occupy Boston movement.
"The park closes at 11 p.m. and reopens at 7 a.m.," according to the statement from October 2011. "Occupy Boston is an extraordinary situation. We are prepared to allow Occupy Boston to maintain the status quo."
In this statement the representatives of the conservancy said Occupy Boston protesters had been cooperative with the police and the conservancy. Protesters, for example, had cooperated with loading operations of a farmers market in Dewey Square on Tuesdays, the conservancy said.
Masny-Latos said a deal was offered by the Commonwealth after the shutdown of the encampment wherein all trespassing charges would be turned to civil infractions, and a $50 fee would be issued. The majority of Occupy Boston protesters took this deal, but some rejected it, she said.
"Twenty-four people rejected this deal, claiming that their rights were violated and they wanted to go to court and present their case in front of a judge," Masny-Latos said.