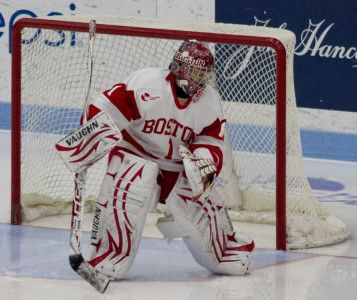 Last season, as the minutes ticked away in overtime, the Boston University women's hockey team sent a burst of shots toward the net in an attempt to win one of the few titles it has yet to earn as a varsity program — the Beanpot.
After Northeastern University goaltender Florence Schelling set each shot aside, however, then-forward Casey Pickett put the Terriers' hopes to an end. Along with Kendall Coyne, who was a freshman at the time, Pickett skated down the ice on a 2-on-1 and scored, giving the Huskies their 15th Beanpot title.
Tuesday the No. 3/4 Terriers (18–3–3, 13–2–1 Hockey East) will face off with Northeastern (14–10–2, 8–7–1 Hockey East) in the Beanpot. This time, however, the contest will occur in the first round of the tournament and come just three days after the teams last met.
"I'm sure everybody that's playing in the game remembers that result," said BU coach Brian Durocher of last year's Beanpot finale. "Northeastern kids will probably gravitate toward some confidence because of that, and BU kids will maybe have a whisker more emotion to try to get themselves a victory.
"But it's not because of Northeastern beating us last year, it's because we want to get to the finals and have a chance to play for a championship, and I think that is still the fuel that stokes the fire."
When the teams last met up on Saturday, the Terriers extended their 13-game unbeaten streak as they defeated Northeastern 4–2 in a matchup that saw four different BU players score.
According to Durocher, while BU swept the season series from Northeastern, Northeastern could use that as an advantage during the Tournament.
"The advantage we have is that we have a certain level of confidence that we've been able to get some wins against Northeastern this year," Durocher said. "I think a distinctive disadvantage is the law of averages, or something going right for them.
"The game starts at zero-zero, so we don't have any type of lead just because we've come up with victories against them this year."
In order for the Terriers to find success, they will need to limit the offensive production of some of Northeastern's top forwards, including Coyne, Pickett and Brittany Esposito. During BU's win on Saturday, Coyne had one of Northeastern's two goals and Esposito picked up an assist.
"They're a team that plays on their quickness," Durocher said. "They're not as big as some teams you play, but they play just as hard."
BU will also rely on junior netminder Kerrin Sperry, who took home a Hockey East Defensive Player of the Week honor for her 23-save performance against the Huskies on Saturday. Sperry ranks third in the conference with her goals against average of 2.33.
"I know she'll be anxious to get out there," Durocher said of the North Reading, native. "But she, just like the rest of our team, needs to make sure she keeps her composure and controls the excitement."
A win over Northeastern would bring the Terriers one step closer to earning a Beanpot title that has eluded them since they became a varsity program — and since they won it as a club team in 1981.
"Some of [the emotions] are similar to what they'd be in any game," Durocher said of the team potentially earning its first Beanpot trophy. "Trying to be ready, trying to have a controlled emotion, I think it's important and certainly trying to be a first can be a real advantage because you're hungry for something. But in the same sense, you can try too hard.
"We've got to temper our emotions and be sure that we're keeping our focus."