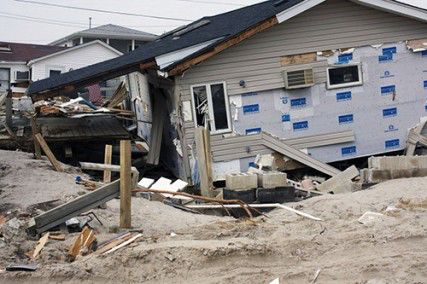 Boston Mayor Thomas Menino announced plans and policy proposals to prepare the city for future hurricanes and other natural disasters in a press release Tuesday.
"In the wake of Sandy's devastation on the East Coast, Menino is raising the profile of the City of Boston's ongoing efforts and taking further actions to better prepare the city for future storms and other natural hazards associated with climate change," the release from Menino's office stated.
Menino plans to have the Boston Redevelopment Authority survey the preparedness of buildings and other structures, such as Massachusetts Bay Transportation Authority stations, that are likely to face climate-change problems within six months, according to the release.
BRA spokeswoman Melina Schule said steps have already been taken toward surveying buildings in Boston to ensure they are prepared for climate changes.
"We already have a survey that we give out to developers who are working on large projects and institutional master plans in the city," she said. "I think we have the framework in place and more detailed steps are something we will unfold over the next few months."
Menino's proposal came as a result of the Boston Harbor Association's report on the vulnerabilities of Boston's coastline, according to the release. Emily Dahl, communications director of the BHA, said the report brings the effects of climate change and rising sea levels down to a local level, specifically for Boston.
"This report brings it to a neighborhood level," she said. "It's the first report that looks at the neighborhoods that would be affected [by effects of climate change] and gives suggestions on how property owners can be prepared to deal with the issue of rising seas."
For coastal communities like Boston, the acceleration of warming temperatures has led to an increase in sea levels and coastal flooding due to melting glaciers and thermal expansion of the ocean, according to the BHA report released Tuesday.
Boston already has a Climate Action Plan in place from 2011 that establishes a framework for climate change preparedness, but the city needs to act on its proposals to prepare Boston's waterfront and neighborhoods for the expected rise in sea level, the BHA report stated.
"At this point, we are acknowledging that some [climate] change is underway and we need to keep working," Dahl said. "Everyone needs to be working to curb the impact of climate change and we do not want to be caught off guard when it happens."
Menino also plans to have the Boston Conservation Commission  draft a wetlands ordinance developing new floodplain maps that incorporate changes in sea level and storm intensity and frequency.
The Inspectional Services Department and Boston Public Health Commission have been tasked with developing guidelines for enforcement of flood-proofing standards for buildings in designated flood hazard areas.
The Office of Emergency Management is also planning to lead a review of emergency operation procedure for storms and flooding, according to the press release.
Boston did not receive the brunt of Hurricane Sandy, which hit the northeastern U.S. in October, said Chief of Staff of the Environmental and Energy Services Cabinet Jacob Glickel.
"Boston experienced minor coastal flooding, downed trees and power lines," Glickel said. "The impacts were very minor and did not test Boston's buildings stock and infrastructure."
Glickel said the damage could have been worse from the storm, and this understanding has led to Menino's most recent proposal.
"Had the storm hit during high tide, we may have seen issues similar to what happened in New York, which is why the mayor is taking action to prepare Boston and its buildings with various planning and policy tools," he said. "This will be a close partnership with the private sector to make sure Boston is better prepared for the next storm."