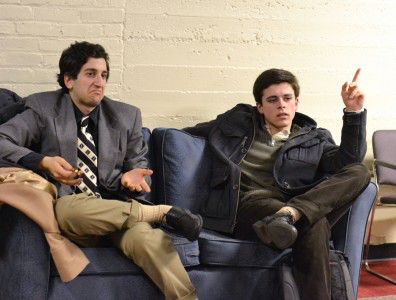 Boston University Student Government officials said Social Justice Week's numerous gatherings were designed to encourage activism and on-campus discourse on a variety of issues.
"Our goal is to bring these issues up in our community at BU and get the discussion going so that people are actually aware of what's going on and feel like they can make a difference — because really they can," said SG spokesman and Director of Advocacy Saurabh Mahajan, a College of Arts and Sciences freshman.
On Monday, about 20 people gathered in the South Campus study lounge to kick off Social Justice Week by participating in a student-organized dialogue.
SG President Aditya Rudra, a School of Management junior, and KC Mackey, a CAS senior, led the discussion.
Luke Rebecchi, a CAS junior, and Katie Cole, School of Theology and School of Social Work 2012 graduate also helped organize the dialogue.
"Tonight, we're having a conversation on social justice — it's completely student-led, all student participants — really just to have a dialogue about social justice issues," said SG Director of Social Affairs Rebekah Leopold, a CAS freshman, Monday night.
Participants touched on a variety of issues, including poverty, racism, sexism and the role of large corporations in students' lives.
"Forums like this are a way to bring personal experience, diverse background and diverse classroom learning to a conversation in the here and now," Cole, who is director of children and youth ministries at the Fourth Presbyterian Church of South Boston, said. "It's a little more personal and a little less philosophical."
Cole said college is a good environment to take up new causes.
"One of the great things about going to school in an urban setting is that you have 1,000 opportunities to be involved in all different kinds of social justice initiatives," she said. "Now is the time to do it."
Charlie Walker, a College of Communication senior who attended Monday's discussion, said he learned more about the nature of social justice and how to go about effecting change.
"We just heard a lot of different perceptions of injustice, a lot of different injustices," he said. "Today has showed that a lot of reaching social justice is open-mindedness and willingness to listen and look out for other issues and look out for other people."
SG joined the Sigma Kappa sorority and the Sigma Alpha Mu fraternity Wednesday in hosting a talk by BU professor of neurology Andrew Budson, associate director for research of BU's Alzheimer's Disease Center. He spoke about the biological and pathological background of Alzheimer's, as well as what is known about treating the disease.
"I would love for students to begin understanding what's going on, get involved, and try to help out," he said.
SG will also host the Million Hours Project Community Service Expo from 5 p.m. to 8 p.m. Thursday at 100 Bay State Road.
"It's basically just a showcase of a lot of BU's service organizations so that people know how they can get involved to help with hunger, or education, or some of those issues that this week is focusing on," Leopold said.
To close out the week, students will have the chance to speak about social justice with Dean of Students Kenneth Elmore on Friday between 3 p.m. and 5 p.m. The conversation will take place on the fifth floor of the George Sherman Union in the Faculty and Staff Dining Room.
Leopold said her goal for Social Justice Week is to increase campus dialogue on social justice issues, both specific and general, pertaining to the BU community and the world.
"Hopefully, through greater discussion comes greater knowledge," Leopold said. "Greater knowledge will translate to more action for social justice issues."