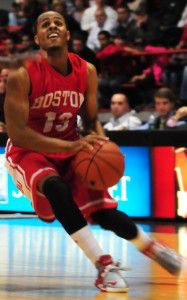 Boston University men's basketball coach Joe Jones picked up on Binghamton University's strategy in the opening minutes of a Saturday matchup with the Bearcats: Take freshman guard John Papale out of the game and do not let him settle into any offensive rhythm.
"It's just hard to do that," Jones said of the Bearcats' game plan. "There are just so many guys who can hurt them."
In front of a crowd of 2,706 at the Events Center, junior guard D.J. Irving did most of the hurting, dropping a career-high 27 points on 10-of-18 shooting and sinking seven treys to propel the Terriers (13–11, 7–4 America East) to a 79–58 thumping of the Bearcats (3–21, 1–10 America East).
BU produced two other starters in double figures, as Papale had 12 points off four 3-pointers and junior forward Dom Morris scored 13 points to buoy the Terriers to their fifth win in six games.
Guard Jordan Reed posted a double-double with 17 points and 11 rebounds and forward Javon Ralling had 10 points to lead Binghamton, the losers of five straight contests — currently the longest winless streak in the conference.
The Bearcats' last victory came on Jan. 19, a 57–56 decision at the University of Maine.
"They have some guys who are very good at this level," Jones said. "They have a combination of youth and just not enough depth. I think that's there biggest issue right now."
Four days removed from lighting up Maine's 2-3 zone for 79 points, BU shot 47.8 percent from the field and 38.7 percent from beyond the 3-point line.
In the first half alone, the Terriers knocked down 9-of-18 shots from downtown with Irving and Papale accounting for all nine of those 3-balls.
BU's hot shooting from all spots on the court of late comes as no surprise to Jones.
"We lead the league in 3-point shooting," Jones said. "We lead the league in field goal percentage. We're one of the leading scoring teams in the league. This isn't something that just happened. Our offense hasn't been the issue for us. It's been more in some other areas. We're not surprised.
"We've had guys get hot. John's gotten hot. [Junior forward] Travis Robinson has gotten hot. D.J. is starting to get hot. Dom has led us in scoring. I'm never surprised … It's a great weapon for us to have so many guys who can score."
Binghamton scored six of the game's first 10 points, but BU responded with a 14–0 surge bolstered by six straight Irving field goals, and never trailed again.
Irving finished with a career high in points with 27, but it was the six boards that he grabbed that caught his bench boss's attention.
"He's rebounding the ball very well as of late," Jones said. "He's had 24 rebounds in the last three games. I've been really impressed by that. That's absolutely huge. He's really competing at a high level and obviously [Saturday night] he was lights out. His all-around game was very efficient."
Freshman guard Maurice Watson Jr. served as the facilitator and dished out 13 assists, including nine in the first session that saw the Terriers jump out to a 42–28 halftime cushion.
When asked if his team boasts the most dynamic backcourt in the league, Jones was candid.
"We have very good guard play," Jones said. "No doubt about it."
BU stretched its lead to as many as 23 points during the second half, helped out by contributions from freshman forward Nathan Dieudonne and sophomore guard Zach Chionuma, who each netted seven points off the bench.
"Nate and Zach both played very well," Jones said of his role players. "They're working hard in practice. It's been a carryover from practice."
With a crucial tilt looming at the University of Vermont on Tuesday, Jones is well aware that BU's compete level must be at an all-time high for his team to pull through.
"We have to go compete," Jones said. "That's the big thing. Anytime you play a Vermont team, you have to be ready to compete, so we have to go up there and compete and play with great energy."