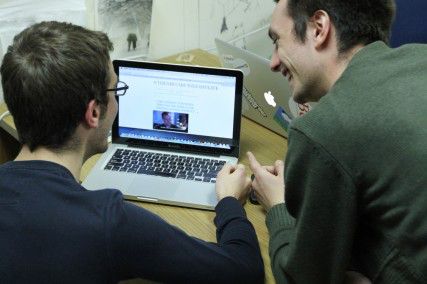 Sit around any bus or train stop in Boston and you are sure to here the usual complaints about The Massachusetts Bay Transportation Authority — the trains are always late, the infrastructure outdated, the fare hikes too severe.
Channeling this frustration creatively, Ali Wisch decided to begin poking fun at the MBTA and her fellow passengers with a Tumblr blog, TheMBTARuinedMyLife.com, which is closing in on 2,000 followers since its creation in late January.
"Once I started taking the T every day, I noticed patterns of lateness and unhappy passengers, and I'm also grumpy in the morning so that doesn't help," Wisch said. "I would have seats stolen from me and I was delayed and got in trouble at work a few times. I was frustrated and had nowhere to vent, so I created the blog."
Wisch, a 27-year-old Brighton resident who works on Newbury Street at a marketing firm, has been posting gifs and images that reflect the trials and tribulations she faces on her daily commute from Chiswick Road Station to Arlington Station on the Green Line.
Wisch said her daily commute has been a constant source of inspiration and has given her no end of material to work with.
"Pretty much every day something will happen to me on my way to or from work, and I'll have a few ideas of gifs I want to look for," she said.
Wisch muses on her blog about topics including T delays, lack of room on buses and trains and the demeanor of MBTA employees.
The feedback on the blog has been mostly positive, and people find it easy to identify with the problems that she faces as a T passenger, Wisch said.
"I've been getting mixed responses, but generally more positive ones than negative ones," she said. "Most people have said things like 'thank you, this makes me laugh on the T,' and 'now I can show my friends from out of town what we go through.'"
The MBTA could not be reached for comment by press time.
A number of T passengers identified with the idea behind the blog and said they have felt frustrated while riding the T.
Seanna Cavanaugh, a Simmons College freshman, said she was pleased someone was pointing out the flaws of the T.
"I appreciate that the T is here, but I also get really annoyed with it, since I take it everyday," she said. "So in a joking way, it's ok to make fun of it. I mean it's not like it's meant to be taken totally seriously."
Karen Loewy, a Boston University College of Communication sophomore, said she enjoyed the humor of the blog.
"If you find it funny, then the site is fine," she said. "There definitely are problems with the MBTA, so it's funny that someone is making fun of it."
Other passengers said that the blog failed to recognize how good the T was in comparison to other subway lines, and Wisch may have less to complain about than she thinks.
Katie Bucaro, 25, a speech therapist and former New York resident, said comparatively, the T is a good system.
"I'm from New York City and to me, nothing is worse than the subway there," she said. "People here don't know crowding if they never lived in New York. Trains there come often, but in rush hour you have to wait two hours sometimes because of how crowded it is. So I'd say that they're not totally justified in complaining about the T."