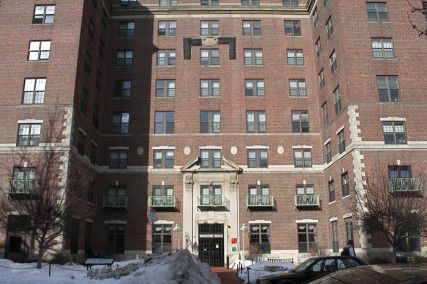 By transforming Boston University's Shelton Hall into Kilachand Hall — a residence hall that will combine the Arvind and Chandan Nandlal Kilachand Honors College's faculty and students — KHC will promote a sense of community among its members, officials said.
KHC Manager of Student Advising Amanda Scobie said the money, donated by 1974 Graduate School of Management alumnus Rajen Kilachand, will allow KHC to fulfill its purpose on BU's campus.
"After an initial donation by Mr. Kilachand, which endowed our college, we changed our name," she said. "He gave another $10 million to the university for us to have a real living and learning community in which our students can live."
The renovations will allow for a combined academic and residential space in Kilachand Hall, Scobie said.
The project's first phase focuses on renovating the first floor of Shelton and is scheduled for completion by September 2013.
The second phase of construction, which will focus on the ninth floor, stair tower and elevator, is set to take place during the summer of 2014, said Associate Vice President for Operations Walt Meissner.
Meissner said the residence hall will soon include a teaching space for KHC professors and will have a better study space for KHC students.
"The east wing of the first floor will be renovated to accommodate the KHC director and faculty offices, including a teaching space," he said in an email. "The common room in the middle will remain configured as it is now, but improved to better serve both the KHC and the residence hall."
Charles Dellheim, KHC director and history professor, said the common room is one of the most important parts of the renovation.
"A common room will provide an opportunity for informal meetings for faculty and students, as well as for students who are both in KHC and students who are in other parts of the university," he said.
Meissner said BU officials hope to renovate the west wing of the first floor and want to add a new stair and elevator tower as part of the ninth floor renovations.
"The west wing is being reconfigured and renovated to serve the residence hall, including residence life offices, laundry facilities, a mail room, bike storage and public restrooms," he said. "In a later phase we will be improving access to the ninth floor by adding a new stair and elevator tower, as well as new windows and roof."
Makaela Reinke, a KHC and School of Hospitality Administration freshman, said having classes in a residence hall might pose an inconvenience for students.
"None of the other residence halls have classes in the bottom," she said. "It's going to be pretty inconvenient for people to slide [their Terrier Card] in and out of the building to go to class," she said.
Courtney Sonn, a KHC College of Communication freshman, said the renovations will allow greater interaction among KHC students outside of the classroom.
"Merging faculty and students is cool," she said. "I know a lot of Honors kids next year that want to live in Shelton, and it'll be cool to live with the other Honors kids because we see them a lot," she said.
Margaret Therrien, a School of Management sophomore, said from her experiences at other schools, joint academic and residential spaces are beneficial to students.
"Housing the faculty and students together is effective from my perspective," she said. "Last year I went to the University of Vermont. They had all of the honors college students in one dorm and it seemed to work out because they lived together and took classes together."