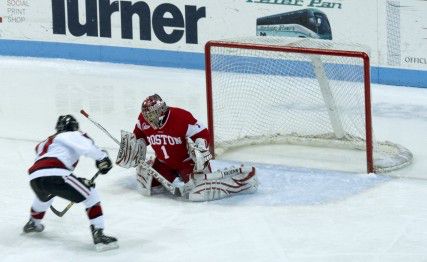 The No. 3 Boston University women's hockey team suffered a 3–0 loss Tuesday night against No. 5 Harvard University in the Beanpot consolation game at Matthews Arena.
BU's (18–5–3, 13–2–1 Hockey East) fourth-place finish in the tournament was the first in program history.
"It's disappointing," said BU coach Brian Durocher. "If you can identify things to talk about, work on and correct, it makes it a little more palpable."
Durocher said the team was not at all affected by its weekend off due to the snowstorm, which included a postponed game on Saturday against the University of New Hampshire.
"We had two good skates," Durocher said. "We had a day off. We had another good skate, and we threw in some scrimmage time."
The first period was scoreless, despite Harvard's (18–3–2) power-play advantage on four separate occasions. Durocher said it caused the Terriers to expend a lot of valuable energy early in the game.
But in the second period, the Crimson picked up speed. During BU's fifth penalty kill of the evening — after junior co-captain Marie-Philip Poulin was called for crosschecking — Harvard forward Lyndsey Fry scored her 12th goal of the season off of assists from forward Samantha Reber and defenseman Sarah Edney to give Harvard a 1–0 lead.
BU had difficulty regaining its composure after letting up the power-play goal, and less than 20 seconds later, Reber scored a goal of her own to put the Crimson ahead 2–0. Sophomore forward Hillary Crowe and Kelsey Tomatoski had assists on the play.
"Then, the one that's a little more frustrating is the second [goal]. We've got to button down the hatches," Durocher said. "We've got the right people there, and we let them come down and get a quick one right after."
Less than two minutes after Reber scored her goal, she passed the puck to Crowe, who beat junior goaltender Kerrin Sperry to give the Crimson a 3–0 lead with 15:57 into the second period. Their lead remained unchallenged for the rest of the game.
"The third one was, again, one with a little bit of luck — a good play — puck found the cage for the third one," Durocher said. "The second one, you've got to be a little more resilient, and you've got to be able to deal with adversity and not let the second one happen. It was just too much, too fast."
During the third period, despite the team's inability to score, the Terriers picked up their pace defensively, which may have been aided by a few line changes.
"Sometimes when you're struggling to score, you try to make a couple changes," Durocher said of his decision to mix up the lines. "It ignites a little bit of a different energy. It probably ignited a bit of a spark, but we also played a pretty diligent, thorough and focused period.
"You expect that when you haven't played very well, and we did a good job of that in the third period. We stayed on the puck and made it a competitive game."
With the NCAA tournament around the corner, Durocher said the consolation game was much more important than hometown bragging rights.
"I told them, 'Beanpot's over. It's not a consolation game. It's an NCAA PairWise huge game,'" Durocher said. "It could have solidified our situation — not mathematically — but it could have put us in a real good situation. We're probably going to wake up tomorrow and see that we're in a little bit of a funny location."
BU remains one game away from its 150th program win.
"The disappointment of not scoring goals — or the frustration — sometimes you can point to the goaltender, sometimes you can point to the team defense, and sometimes you point to a little of bad luck," Durocher said. "Maybe we've had all three of them in the last two games.
"I know law of averages are going to correct themselves with the kids we have that can score goals and that have scored goals, but you've got to find ways to get one in there or correct some things."
BU next meets the University of Vermont Saturday at Walter Brown Arena at 3 p.m.