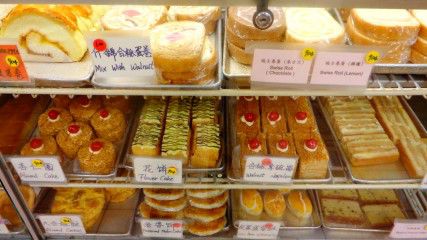 MUSE sent staffer Noëmie Carrant, a self-professed foodie, to Chinatown to find the most compelling food that $5 can buy in the area:
February means one thing for me: Chinese New Year. Being half-Taiwanese, Asian culture has played a huge part in my life. As a child, I would devour my Ama's (grandmother's) dishes, made with obscure yet delicious ingredients. Steamed pork buns, Daikon rice cakes, fried pork won tons, pineapple cakes, cucumber chicken soup, bak chang, fish ball soup … I had them all. When Chinese New Year's came, she would hand me a bright red envelope containing five one-dollar bills. When I was a kid, $5 meant that I was rich and could buy whatever I pleased. But at college, $5 means three laundry trips.
Here's a far better idea: Grab $5 out of your wallet, take the T to Boylston, and leave your dirty laundry behind. Make your way towards the Theatre District and find the Eldo Cake House on Harrison Avenue. Yes, it looks like a shabby, run-down place, but do not let the neon lights fool you. Simply approach the counter, admire the pastries and let your stomach decide.
Actually, the best thing to do is let your eyes choose. Try whatever looks delicious. The pastries are so cheap that even if you order seven of them, it will not cost you more than $10. That is the beauty of the Eldo Cake House, you get delicious things for a couple of dollars. A broke college student could not ask for more.
I ordered a selection of pastries and buns, sat down at a nearby table and proceeded to eat, as old Asian grandpas looked at me curiously.
First off was the egg custard tart, the establishment's most renowned item. It was gooey and flaky and absolutely perfect. The Lemon Swiss Roll came next — an airy sort of chiffon cake with a thick swirl of lemon curd. Sweet and tangy, this pastry will please those who haven't yet grown accustomed to the egg tarts that are so characteristic of the beauty and complexity that are Asian dishes.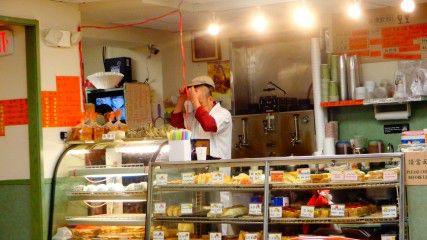 The pork turnover had many layers to it, with sweet roasted pork nudged in between – very greasy but very satisfying. The slice of mango sponge cake was so fluffy and light, it felt like eating a sweet cloud with little chunks of mango inside. The coconut tart was crisp on the outside and moist on the inside, with warm coconut flakes that melted in your mouth. I finished this Asian foodie extravaganza with the salty steamed pork buns. The white doughy bun hides the savory ground pork filling. Each bite was wonderful and made me want to cry, "Where have you been all my life, pork bun?" By far the best item on the menu, this simple little white bun immediately brought me back to my childhood, with my Ama. I had already paid for my previous items but I immediately returned to buy two more pork buns — which held up remarkably well after being reheated the next day.
The pastries at Eldo Cake House are delicious, cheap and timeless. They should be shared with friends and family, and possibly with Asian grandpas suspiciously looking at you. Visit the Eldo Cake House to enjoy the beginning of the Year of the Snake!