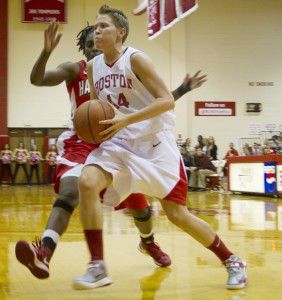 Thanks to a high-scoring first half, the Boston University women's basketball team defeated the University of Vermont by a score of 56–47 Wednesday night.
The Terriers' (21–4, 11–1 America East) offense in the first half was solid, as it shot 40 percent from the floor. It was a back-and-forth affair for the first eight minutes, but with 12:18 left in the half and the Terriers trailing 12–10, junior guard Danielle Callahan made a 3-pointer to push BU ahead 13–12. After her three, Callahan scored another triple and a layup with no response from the Catamounts (7–17, 4–7 America East).
Callahan's individual 8–0 run was extended by a layup from junior forward Rashidat Agboola and a jumper from sophomore forward Mollie McKendrick. At 10:56 of the first, the Terriers led Vermont by a score of 22–12.
"In the first half we could really get any shot we wanted," said BU coach Kelly Greenberg. "We didn't knock them all down, but we were getting very good looks inside and out, and we were feeling pretty good going into the half."
Vermont forward Lauren Buschmann made a free throw 11:27 into the half, cutting Vermont's deficit to single digits, but the Catamounts did not make a field goal for the remainder of the opening frame. BU went into halftime with a 33–15 lead.
To start off the second half, senior guard Chantell Alford made a jumper and junior forward Whitney Turner secured a layup to push the Terrier lead to 22 points.
But Vermont guard Tierra Shumpert made a jumper 1:51 into the half — the Catamounts' first field goal since they were ahead 12–10 7:26 into the game. This kicked off a 7–0 run to bring Vermont within 15 points four minutes into the final frame.
"In the second half there was a change," Greenberg said. "The game got more physical and everything was much more difficult to get an open shot."
However, Vermont could not gain enough momentum to overcome the hole it dug for itself in the first half. A 3-pointer from Shumpert with 22 seconds left brought the Catamounts within single digits for the first time in the second, but it was too little, too late, as BU held on for the victory.
Going up against the No. 7 offense in the America East Conference, the Terriers held the Catamounts to 27 percent shooting from the field, and were able to force 18 turnovers, which they converted into 21 points.
"It came down to us being very active with our feet and with our hands," Greenberg said. "We had a lot of steals, a lot of deflections and I really felt like we got to them a little bit in the half-court and the full-court as well."
BU had three players in double figures with senior guard Mo Moran leading the team with 12 points on 4-of-10 shooting. Moran also added five assists and four rebounds. Junior forward Whitney Turner was 4-for-7 with 10 points and four rebounds. Callahan contributed 10 points off the bench.
McKendrick reached season highs with eight points and eight rebounds. Overall, the BU bench outscored that of the Catamounts 18–11.
Alford, who is leading the Terriers in scoring this season, had an uncharacteristically quiet night, only putting up six points on 2-for-9 shooting. Agboola also had a quiet night on the offensive end with eight points on 3-of-13 shooting, but showed effort on the boards by grabbing 10.
For the Catamounts, Buschmann led with 17 points on a 3-for-7 shooting night. She went 11-for-14 from the charity stripe, while also grabbing seven rebounds. Their only other player in double figures was Shumpert, who had 12.
The win extends the Terriers' win streak to five games as they sit in second place in America East behind the University at Albany.