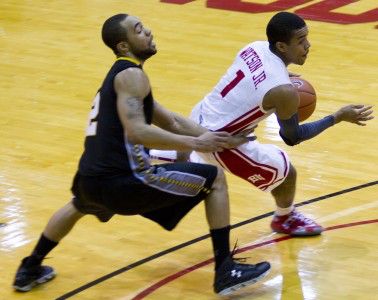 After the Boston University men's basketball team defeated the University of New Hampshire Sunday 68–56, UNH coach Bill Herrion could not have been more accurate in his assessment of BU's (15–11, 9–4 America East) mentality as the America East Conference slate nears its conclusion.
"I don't know this, but I know [BU coach] Joe [Jones] well and it seems like they're playing like, 'Okay, you know what? We can't be in the tournament. Let's just try to beat everybody on the way out,'" Herrion said. "I don't know if that's what their attitude is …  They're playing great. They really are."
Herrion said no team is playing as well as the Terriers are at this juncture of the season, while the Wildcats (7–17, 3–9 America East) failed to build off last Wednesday's overtime victory against the University of Maryland-Baltimore County.
"[The Terriers are] dangerous," Herrion said. "They've won seven out of eight, nine out of 11. They're hot. I told our guys that coming in that they're playing better or as well as anybody in this league right now. They're good."
Junior guard D.J. Irving helped junior forward Dom Morris establish himself in the paint right from the get-go, feeding BU's tri-captain for a pair of nifty reverse layups to open the scoring for BU.
The score was knotted at 4–4 just three minutes into the game, but a 15–2 burst from the Terriers over the next three and a half minutes expanded their lead to 19–6. They missed only one field goal attempt during the run.
UNH came within a score of 21–12, but a jumper and a three from sophomore forward Malik Thomas and another 3-pointer from freshman forward Nathan Dieudonne late in the first half pushed the Terriers' edge to 29–12.
With the seconds dwindling down in the first half, Jones clamored for a defensive stop on New Hampshire's final offensive possession. He got exactly what he wanted, as junior forward Travis Robinson swatted guard Chris Orozco's shot seconds before the buzzer expired, sending BU into the intermission with a 34–17 advantage.
Coming out of the locker room, Morris found Irving on a backdoor cut for an uncontested layup for BU's first bucket of the second half.
Shortly thereafter, freshman guard Maurice Watson, Jr., who had six assists on the afternoon, found freshman guard John Papale for a spot-up three that extended BU's cushion to 20 points in the final session.
Robinson provided the signature highlight late in the contest, taking a bounce pass from Watson  Jr. and soaring in for the one-handed dunk that stretched the Terriers' edge to 55–36.
New Hampshire center Chris Pelcher poured in all of his team-high 15 points in the second half. He bolstered a Wildcats squad that more than doubled its offensive production in the final 20 minutes of regulation and managed to trim the deficit to 11 points with 1:14 to play.
However, BU cut off any attempt at a UNH comeback as Watson sunk a 3-pointer with 39 seconds remaining. Pelcher hit a pair of free throws to bring the score to 68–56, but it was too late to get back into the contest, as BU came away with the victory.
Watson Jr. recorded a double-double with 13 points and 10 rebounds.
Morris chipped in 13 points while Thomas and Irving each scored 10 points to buoy BU to its seventh win in eight games.
The six-foot Irving, who only shot the ball nine times, corralled nine rebounds against a lengthy New Hampshire squad.
There has been plenty of room in the Terriers' backcourt for both Irving and Watson Jr. to coexist and display their unique skill sets without interfering in the other's game.
"I was hesitant to come here because I didn't how I was going to play with a guy who plays my same position," Watson Jr. said. "Am I going to get minutes? [Irving] was pushing for me to come here so hard and he was just putting it out there that we can be the fastest backcourt. We can just change the game here. We can put our school back on the map."
Even for a team that was presented with a substantial obstacle to making the NCAA Tournament since it was announced in July that BU would not be participating in postseason conference play, Watson said that the Terriers have not lost sight of their in-season goals.
"You have to play with the hand that you're dealt," Watson said. "Coming in from day one, the best thing to keep everybody working was to be the toughest competitors that we can be. We all play hard. We all play tough. We still want to be able to make noise … You're always going out there to play for something."