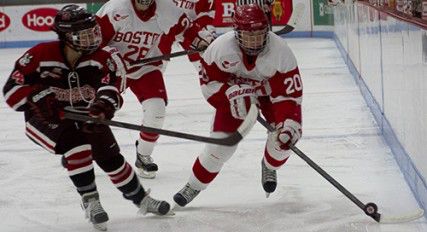 The No. 4/5 Boston University women's hockey team, fresh off back-to-back weekend victories, will look to extend its winning streak to three games in a matchup with the University of New Hampshire Wednesday evening at Walter Brown Arena.
The Terriers (20–5–3, 15–2–1 Hockey East) enter the game after a series with the University of Vermont, in which BU emerged victorious 2–1 Saturday and 3–2 Sunday. The games were the 150th and 151st wins in program history.
"It was real nice," said BU coach Brian Durocher, who also recorded his 150th and 151st career wins as a head coach over the weekend. "They were more playoff-type of scorers, close games, low-scoring games, and those are always good for you to have to find a way to finish those games and pull out the 'W,' and in both cases we did."
Junior co-captain Marie-Philip Poulin recorded two goals Saturday, including the game-winner with 90 seconds left. The goals were the first for the team leader in points since Jan. 25.
"[Poulin has] got to recognize that she's got great players with her and around her, and they'll do their part if she just does her part," Durocher said. "Don't put too much pressure on yourself.
"But when it's your turn to drive to the net, do it. When it's your turn to back check, do it. When it's your turn to get the short shift, do that. If you do those little things, it'll add up. Her talent speaks for itself, and the more she relaxes, the better off we'll all be."
The line of junior Louise Warren, senior Isabel Menard, and sophomore Kayla Tutino, which has been playing exceptionally all season, played a part in all three goals in Sunday's game. The trio has combined for 81 points this season, more than a third of the team's point production.
Durocher said he looks for that line to continue its push during Wednesday's matchup against the Wildcats (13–14–3, 9–7–2 Hockey East).
"They've been on a real good run, and hopefully they'll continue to contribute on the scoreboard, and of course on some of the intangible stuff that goes on during the course of the game," Durocher said.
The prestige of BU's offense puts added pressure on UNH's point leaders, forward Kristina Lavoie (11g, 13a) and defenseman Alexis Crossley (6g, 14a). Crossley is ranked second among all defensemen and fifth among freshmen in Hockey East in scoring.
The Wildcats, with the fourth-best record in the conference, boast wins over some of the top teams in the nation this season, including Boston College, Northeastern University and BU.
"Without a doubt they're making real good strides this year," Durocher said. "Their talent has been upgraded, [they have] wins against quality teams."
On Nov. 9, the Terriers traveled to Durham, N.H., to take on the Wildcats. BU fell into a 3–0 hole early, and goals from junior defenseman Kaleigh Fratkin and Warren were not enough to make the comeback. UNH sealed the victory with an empty-net goal with 16 seconds left, and BU ultimately fell 4–2.
The teams met again when the Terriers hosted the Wildcats Jan. 27. BU evened the season series with a 3–2 victory. Menard produced the game-winning goal in the match — a power-play goal on assists from Warren and Fratkin.
Durocher said UNH has proven this season that it is not a team to be taken for granted.
"They're a team that's beaten us once and played us very down-to-the-end the second time," Durocher said. "We're going to have to keep an eye on some of their quality players and recognize that they're a team that's earned their way into the top half of the conference."
The Terriers already clinched second place in Hockey East, and are in a battle with Boston College (23–5–2, 15–2–1 Hockey East) for the top seed in the conference tournament with three games remaining in the regular season.
Durocher said in the matchup against UNH and in the other games remaining, it is important for his team to stay alert and be focused on the ultimate goal.
"The focus is real simple in that every win means something in the NCAA picture," Durocher said. "We've gotten close to one of those big goals of having a real good body of work for the season, and the last thing we want is not to be prepared for a game in the stretch here.
"We want to be thorough and diligent in every game we play … The kids are focused and they know what's ahead. They're ready to play."