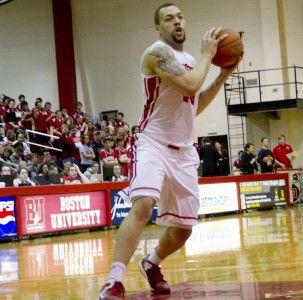 In its last America East game on the hardwood at Case Gymnasium, the Boston University men's basketball team defeated the University at Albany 79–69 Wednesday night.
"We played real well on both sides of the floor," said BU coach Joe Jones. "Other than getting ourselves in foul trouble, we did a good job defensively. Our offense was terrific tonight. They shared the ball and we got a lot of contributions. Guys were efficient and it was fun to coach tonight."
It was the second meeting between the two teams, as the Terriers (16–11, 10–4 America East) deflated the Great Danes (19–9, 8–6 America East) in overtime by a score of 85–80 about a month ago.
Junior guard D.J. Irving picked up right where he left off Jan. 23 in Albany, N.Y. Behind his 11 first-half points and a few big plays from sophomore forward James Kennedy, BU led Albany 32–30 at the end of the first half.
After taking two offensive charges, Kennedy finished a layup 15:27 into the first half to give the Terriers a commanding 27–18 lead. Albany, however, came rearing back and, thanks to strong play from forward Sam Rowley and center John Puk, went on a 12–5 run to end the half and leave itself in a good position for the second half.
Freshmen guards Maurice Watson Jr. and John Papale got the Terriers out to a quick start in the second half and helped put BU up 40–30 1:48 into the final frame.
Momentum remained on BU's side when junior forward Dom Morris threw down a dunk and added an extra point after an Albany foul.
"Its always good to dunk on someone and get the 'and one,'" Morris said of the authoritative slam. "It was great."
Morris then built on the momentum and got the BU crowd into the game with a block on Albany guard D.J. Evans 3:58 into the half.
Even with Albany keeping the game close, Watson Jr. continued feeding Irving and Papale as the guard play for BU took over the second half and helped maintain a 58–51 lead 12:04 into the final frame.
The Terriers led for the remainder of the half. A dunk from freshman forward Nathan Dieudonne, followed by a 3-pointer from junior forward Travis Robinson, put the dagger in the heart of Albany and chalked up the win for the streaking Terriers. With the 79–69 win, BU has won five consecutive games and seven of its last eight.
"I said this before, last time we played BU, but they are going to win the Patriot League right away from the get-go next year," said Albany coach Will Brown after the game.
In typical Terrier fashion, BU had four players in double digits. Watson Jr. registered a double-double with 11 points and 10 assists while Morris, having finished the game with 16 points and nine rebounds, came one board shy of a double-double. Papale and Irving finished with 18 points apiece.
The Terriers finished the game shooting 51.9 percent from the field.
"We are playing well right now, so let's just ride it," Jones said. "Let's not make any game bigger than the next. Let's just try and finish strong.
"They know what is ahead right now. They can smell it, and they are playing with a great sense of urgency and an unbelievable sense of confidence in themselves and each other."
The leading scorer for the Great Danes was guard Mike Black with 21 points, while Rowley added 18 of his own.
Wednesday night was also the Student Activities Office Student Group Night at Case Gym, and the BU students came out in throngs to provide a great atmosphere.
"I really appreciate the fans coming and that really helps us," Jones said. "We've had great crowds all year. Our guys play off the energy from the students, and it's what college basketball is really supposed to be like. It's a good night to be a Terrier."