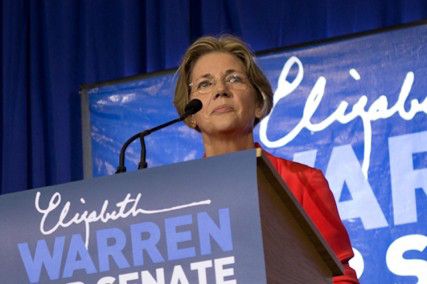 U.S. Sen. Elizabeth Warren announced Thursday the formation of a new political action committee to support Democratic candidates around the country.
"I've formed a new organization — PAC for a Level Playing Field — to advance our fight," Warren said in a statement Thursday. "Together we can do more, and we can support candidates across the country who believe in consistent accountability, investing in opportunity and fighting for families and small businesses."
Warren filed with the Federal Election Committee to create the new committee Dec. 20.
Liz Bartolomeo, media director for Sunlight Foundation, said Warren created what is known as a leadership PAC.
"It is a leadership PAC and corporations can't give any money to it [the PAC], but the public can," she said. "This is in line with what her political leanings and what she has done in the past."
Leadership PACs are set up by elected officials and political parties to allow them to give more than the federal limit of $5,000 to candidates through independent expenditures. Corporations are not allowed to make contributions.
Super PACs do not make contributions to candidate campaigns or parties directly, but can spend independently of the campaign by raising money from individuals, corporations and unions.
"Just like our [2012 Senate] campaign, the PAC for a Level Playing Field won't be funded by big corporate interests. It will be funded by grassroots donors like you," Warren said in the statement.
Bartolomeo said it is not unusual for freshman senators to create new PACs.
"[Creating a PAC is] a completely common thing," she said. "It is what people well known do. It is something they do to fundraise for other people."
She said because Warren is a popular candidate, her PAC could help many campaigns.
"She has made it big and she is a rising star in the Senate, and her name can bring in a lot of money for other candidates and give it other campaigns," she said.
In the year-end financial disclosure of 2012, the PAC had no contributions or expenditures.
"They have reported no money so far," Bartolomeo said. "She was just elected to office and they want to make it known that they will be raising money."
Warren said she wants to create an equal opportunity for everyone to have a chance during the campaign.
"If we have the chance to fight on a level playing field, then no one can stop us. That's what I'm fighting for each and every day in the United States Senate. But here's the honest truth: At the end of the day, my one voice — and my one vote — isn't enough. We need many strong voices fighting together to stand up for what we believe in," she said in the statement.
She said she is using her fundraising knowledge from her previous campaign, in which she raised about $42 million to help candidates in future races.
"Using our historic fundraising efforts and the single best grassroots army that any senate campaign has ever seen, the PAC for a Level Playing Field will fight for what we believe in and help candidates who will join us in that fight," she said in the statement.
Tim Buckley, spokesman for the Massachusetts Republican Party, said Warren in her 2012 senate race took an undisclosed sum of money from Wall Street financers.
"She got contributions from folks on Wall Street," he said. "No surprise if she took back her word on business contributions."
Bartolomeo said Sunlight Foundation will continue to look into Warren's PAC.
"We are the watchdogs for leadership," she said. "We watch how they are spending and keeping track of their money."