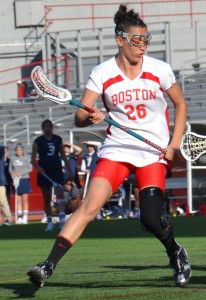 It was a dreary day at Nickerson Field, with torrential rain and strong wind gusts forcing students to run for shelter. Despite the terrible conditions, the Boston University women's lacrosse team braved the elements and defeated the No. 12/14 University of Massachusetts-Amherst, 9-8, in overtime to win its first season opener since 2010.
"I was really impressed with how the team fought through really tough conditions," said BU coach Liz Robertshaw. "It was not nice out there, with the rain and the wind, so it was a tough way to play your opening game.
"But in conditions like that, we didn't have time to let nerves and jitters get to us. We just had to focus and fight a very good UMass team. I'm happy with the outcome."
The game started off in favor of the Minutewomen (3-2), as senior Cori Murray and junior Sam Rush both scored within the first five minutes of the game to give UMass an early 2-0 lead.
Robertshaw said the Minutewomen's quick start to the game was the culmination of both UMass having four regular season games already under its belt, as well as BU facing its first opponent of the year.
"[The Minutewomen] are a lot more comfortable in their system," Robertshaw said. "They're more comfortable in their attacking schemes, and we had to get used to playing somebody else. It was our first game, and we had to get out there and get ready to go."
BU (1-0) answered back with a goal from sophomore attack Jenna Boarman at the 7:10 mark, but UMass regained its two-goal lead with a score from junior Kate Ferris just minutes later.
Freshman midfielder Sofia Robins scored her first collegiate goal with 16:45 remaining in the first half, cutting the deficit back down to one.
After more than ten minutes with no goals, UMass senior Lauren Terracciano scored to give the Minutewomen a two-goal lead once again. However, BU junior attack Becca Church scored with 46 seconds remaining in the half to cut UMass' lead down to 4-3.
After halftime, the Terriers came out hot, as Boarman and junior attack Elizabeth Morse scored to give BU its first lead of the game, 5-4, with 23:15 remaining in the game.
Robertshaw said the team's improved offense in the second half resulted from figuring out UMass's defense, as well as finishing plays.
"UMass played a really aggressive zone style of defense against us, and it took us a little while to adapt and find the openings that we were looking for," Robershaw said. "In the second half, we finished on more of our shot opportunities and got more of the looks that we were hoping to get."
Rush scored again for UMass to tie the game up at 5-5, but senior attack Danielle Etrasco scored two unanswered goals for the Terriers to put them up by two with 10 minutes remaining in the game. However, UMass scored two more goals to force overtime.
In overtime, senior midfielder Kristen Mogavero and junior midfiedler Sydney Godett scored to give BU a 9-7 lead. UMass added another goal with under a minute remaining to play, but the Terriers held on for the hard-fought win.
Church led the Terriers with three points (one goal, two assists) in the game, while Boarman and Etrasco each finished the game with two goals. Junior goalkeeper Christina Sheridan finished the game with six saves and collected three ground balls.
BU outshot UMass in the game, 22-17, but the Minutewomen had a 13-8 advantage in draw controls.
While Robertshaw said it was not a perfect game for the Terriers, she was thrilled at the effort BU put forth against a very skilled team.
"There's a lot of things we need to work on obviously," Robertshaw said. "But for the first game, for them to go out and play a solid game and finish it in the weather that we played in today, I'm really proud of them."