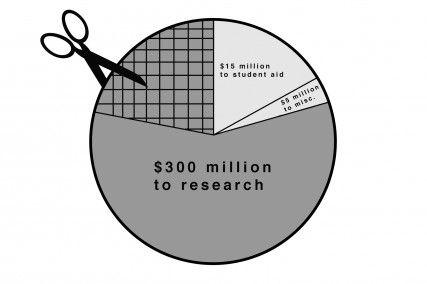 Officials at Boston University are bracing for impending cuts to research funding and financial aid after U.S. President Barack Obama signed the Budget Control Act of 2011 into law Friday as part of Congress's failure to agree on a deal avoiding the sequester.
"The faculty has been more cautious with their spending," said Jennifer Grodsky, vice president for BU Federal Relations in D.C. "They're spending a lot of time thinking about lab research, their research technicians and about how to support them."
The Budget Control Act of 2011, more commonly known as the sequester, is a mechanism to encourage bipartisan compromise on sensible spending cuts, said Doug Kriner, a political science professor, in an email. The sequester automatically triggered large, indiscriminate cuts in both domestic discretionary and military spending as no consensus was reached.
"Ultimately, to get a deal to raise the debt ceiling through the 2012 elections, the two sides agreed to a bill containing the sequester," Kriner said. "The hope was that this outcome would be so anathematic to both parties that they would find common ground on a more sensible plan to hedge off the sequester."
Republicans demanded significant spending cuts to raise the debt ceiling, while Democrats demanded increased revenues as part of the package, Kriner said.
"Two very highly polarized political parties that were unwilling to budget much led to the gridlock," Kriner said. "Democrats wanted increased revenues and Republicans wanted revenues to be completely off the table."
BU receives just over $320 million of federal aid each year for research and student aid, Grodsky said. Of that amount, $300 million — mainly from the National Institutes of Health and the National Science Foundation — goes to federally funded research expenditures in grants.
"A majority of our federal funding comes from NIH for the School of Public Health, [Henry S. Goldman School of Dental Medicine], the biomedical engineering program and the neuroscience program to name a few," Grodsky said. "You will find that the [School of Education] and the [Sargent College of Health and Rehabilitation Sciences] also receive funding for research."
About $15 million dollars of federal funding goes to student aid, Grodsky said. Half of the students at BU with federal aid receive it independent from the university.
"Under the sequestration law they specifically protected [Federal] Pell Grants," Grodsky said. "Another thing students need to know is that aid is typically funded in advance and cannot be affected by any budget cuts from that year."
Separate from the sequester, both NIH officials and NSF officials already decreased federal funding for research because Congress has not told the organizations how much money they have to work with this year, Grodsky said.
"What NIH chose to do, just as a precaution, was tell people they gave grants so that they have 10 percent less money to work with [this year], but this is unrelated to the sequester," Grodsky said. "[NSF] said they might just issue fewer new grants."
Faculty members intend to apply for a greater number of grants in the event funding is cut further, but opportunities for receiving new grants are dwindling, Grodsky said.
"To further complicate things, the federal government is currently operating under a continuing resolution because they never finished the budget from last year," Grodsky said. "In general, people are planning to have less money than planned for their research, but they don't know how much as of yet."
BU spokesman Colin Riley said administrators are bracing for the cuts. He said he hopes Congress and Obama minimize the impact on education institutions.
"Essentially what you're going to have is a change in funding," Riley said. "Individual researchers are being advised to stay in touch with their program officers, and the best thing is we are still optimistic that Congress and the president work to resolve this in the short term."