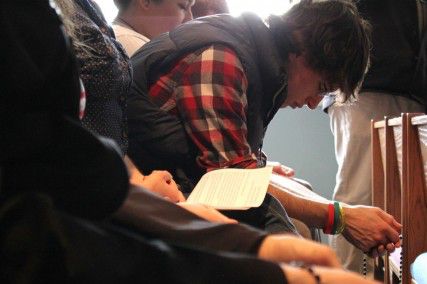 College of Arts and Sciences senior Bradley Agostinelli said Boston University's Knights of Columbus group was formed as a place for generous Catholic students to unite and give back to the community.
"We needed to build a fraternity of Catholic men on our campus based on charity, which is the main staple of what the Knights of Columbus does," Agostinelli said.
The Knights is a fraternal beneficial men's group, according to the Knights of Columbus national website. The BU chapter is one of about 14,000 local chapters of the larger national organization and is awaiting final approval from the Student Activities Office.
The group organized a multilingual rosary Thursday at the BU Catholic Center to memorialize the service and the resignation of Pope Benedict XVI, as well as to celebrate the unification of the church, said BU Knights of Columbus's Grand Knight Denis Nakkeeran. The Vatican asked groups around the world to participate in the event.
"We were saying a rosary, a total of 53 'Hail Mary' [prayers] and six 'Our Father' [prayers] to commemorate the service Pope Benedict has provided — to pray for the future of the church and that the new pope will be able to serve effectively through the church and God's grace," Nakkeeran, a Sargent College of Health and Rehabilitation Sciences junior, said.
Nakkeeran said the group provides students a unique opportunity to be a part of collective prayer.
"Group prayer is very powerful, more than individual prayer," Nakkeeran said. "It's the collective effort of everyone. Where two or more are present, Christ is there."
Agostinelli said groups such as the Knights play a beneficial role on college campuses.
"They [religious groups] are just a warming and loving presence on campus," Agostinelli said. "We really need it … on college campuses especially, because a lot of times there's an absence of love and truth in college settings, specifically in Boston."
Nakkeeran said Catholic groups are a way for religious people to openly express their faith, and can provide a place to foster spiritual growth.
While the Knights of Columbus pray at each meeting and often have members attend different Catholic Student Association events, the main purpose of the organization is charity work fundraising, Agostinelli said. The Knights plan to do many service projects and to raise money for various charitable organizations in the spring 2013 semester.
College can be a challenge to students' faiths, said Aaron Yuengert, group member and College of Engineering junior.
"This university is obviously very secular and a lot of students encounter not just indifference towards God, but hostility towards anyone who is open about their faith," he said. "There are a lot of challenges to living a good Christian life in a place like this."
Yuengert said the BU Knights of Columbus proves a group is more powerful than an individual.
"When you have something good, you want to share it with those you care about and the same is true of prayer, which is the greatest gift," Yuengert said, "While individual prayer is necessary and very fruitful, communal prayer is also necessary. It brings us closer, not only to God, but to each other."