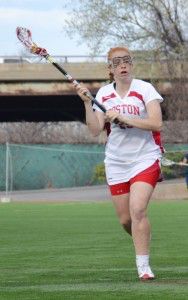 Fresh off a hard-fought overtime victory against the University of Massachusetts-Amherst last week, the Boston University women's lacrosse team is set to take on No. 13 Dartmouth College Wednesday afternoon at Nickerson Field.
While the Terriers (1-0) and the Big Green (3-0) are not in the same conference, BU coach Liz Robertshaw said she still expects a heated and highly competitive game between the two teams.
"It's a traditional New England rivalry game between BU and Dartmouth, and I'm sure that there's going to be some hard hits and some bruises that the girls are going to feel after the game," Robertshaw said.
Dartmouth beat the University of Oregon, Yale University and University of New Hampshire to start the season with a perfect record. The Big Green have been led by senior attack Hannah Bowers, who averages three goals a game this year.
Last year, the Big Green finished the year with a 12-5 record and made it to the first round of the NCAA tournament, where they lost to Syracuse, 15-5.
With a potent offense and a tenacious defense, Robertshaw said the Big Green will be a big challenge for the Terriers.
"Dartmouth is a fast-paced and hard-hitting team," Robertshaw said. "We've watched a couple games of theirs, and they're really pushing the attack with ball movement, with really hard dodges to cage, and getting some really nice looks.
"From the defensive side of things, they are a highly aggressive team. They are going to look to intimidate and rattle us a little bit. It's something that we saw them do against UNH and against Yale, and we think they're going to bring that to us."
Although the Terriers have only played one game this year, they displayed both physical and mental toughness against UMass (4-2), defeating the then-No. 14 team in chilling rain and 20-MPH winds.
While the Terriers' main offensive weapon is senior attack Danielle Etrasco, who scored 58 goals last year, as well as two goals in the season opener, other players have stepped up to help offset the loss of reigning America East Rookie of the Year Mallory Collins, who will miss the entire season with a torn ACL.
One player in particular who made a big impact was freshman midfielder Ally Adams, who was named America East Rookie of the Week after notching two assists in her debut with the Terriers.
The last time the Terriers and Big Green faced off was during the 2011-12 campaign in Hanover, N.H., when Dartmouth defeated BU 13-6.
Robertshaw said the team struggled against Dartmouth last year because of the hype surrounding the game.
"Last year we let the emotion of the game, of the rivalry and of the back-and-forth play, take us out of what we were there to do, which was to just play a very good lacrosse team," Robertshaw said. "We were just too amped up and too excited for the game."
For Robertshaw, the biggest key to the Terriers avenging their loss is composure.
"This year, we're going to try and focus on ourselves," Robertshaw said. "For us, [the key is] staying composed and focused on what we as a coaching staff have put in place for a game plan.
"If we can do that, if we can play a team game for the entire 60 minutes, and do what we want to do … that puts us in a place where we can have a good outcome."