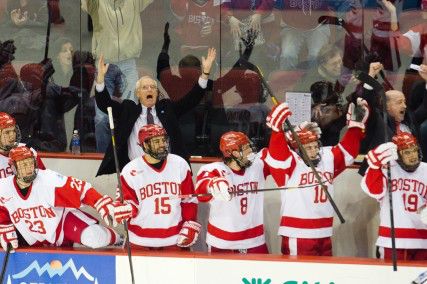 Do not finalize those career numbers quite yet.
The No. 18 Boston University men's hockey team beat Merrimack College 5-3 behind two third-period goals Saturday night to sweep the Hockey East quarterfinal series and give BU coach Jack Parker at least one more weekend at the helm before retiring.
The win — which sends the third-seeded Terriers to the conference semifinals against second-seeded Boston College at 8 p.m. Friday night at TD Garden — was Parker's final home game after four decades as BU's head coach.
"I didn't think of it until they said, 'Do you want to say something to the crowd?'" Parker said. "And my first thought was, 'For what?' And then I realized, oh yeah, we won't cross here again."
In many ways, that it was Parker's final game at The House That Jack Built overshadowed the game itself.
After the final buzzer the entire team stayed on the ice to watch a video montage of Parker through the years, then Parker took a microphone and said a few words of thanks to the crowd of 3,043.
"It kind of felt weird tonight," Parker said. "But it was nice to win. Nice to win."
Before all the reflecting and reminiscing, though, the Terriers (20-15-2, 15-10-2 Hockey East) pulled out a gritty, come-from-behind win. It is their sixth victory in their last seven games and fifth of the season against Merrimack (15-17-6, 13-11-3 Hockey East).
BU trailed for much of the game, but scored the final three goals in the last 20:08 of play to take the series.
The hosts faced three separate one-goal deficits in the second period, the last of which was erased by freshman forward Sam Kurker with 7.6 seconds left. His power-play tally came on a rebound off sophomore center Cason Hohmann's initial shot.
"It was good," Kurker said. "It has been really frustrating lately. I'm just trying to do my role as a third-line right wing and to finally bury one. It felt good."
Senior forward Ben Rosen netted the eventual game-winner at 5:11 in the third. Freshman forward Matt Lane took the initial shot, and Rosen hammered home the rebound at the crease for the 4-3 lead.
The BU defense, which has been thin of late without junior assistant captain Garrett Noonan, kept the Warriors off the board the rest of the way for the series win. Junior forward Sahir Gill added an empty-net goal with 4.4 seconds remaining to account for the 5-3 final.
"The first thing — and I said this to [Merrimack coach] Mark [Dennehy] right after the game — it was a heck of a college hockey game to watch. It was a fabulous game to watch," Parker said. "Everybody played hard. Both teams really played really smart hockey and real intense hockey.
"You could tell Merrimack knew this was it for them. They had to get going."
Although BU led for much of the third, the win was anything but easy.
The first period was a tightly contested one, with neither team capitalizing on its first power-play opportunity and neither getting many good scoring chances.
Merrimack snapped its 139-minute scoreless streak at the 19:00 mark, however. Forward Shawn Bates drove to the net and had his initial shot stopped, but he eventually squeaked the rebound over the goal line and under freshman goaltender Sean Maguire's arm.
The tally ended a shutout streak for Maguire (39 saves) at 151:22, the fifth longest in program history.
The second period was a back-and-forth battle if there ever was one. The Terriers thrice erased a one-goal deficit, first when junior forward Matt Nieto one-timed a centering pass from freshman forward Danny O'Regan at 1:31.
The tie did not last long, however, as the Warriors took a 2-1 lead at 4:23 when forward Mike Collins' shot from the right circle snuck by a screened Maguire.
Then, BU started taking advantage of Merrimack penalties.
At 16:12, Hohmann's shot from the bottom of the left circle got blocked. The puck bounced right back to his stick and he beat Merrimack goaltender Sam Marotta near side for the power-play goal and 2-2 tie.
After a BU defensive-zone turnover led to a forward John Gustafsson goal with 1:20 to play in the second, Kurker knotted things at three apiece headed into the third.
That set the stage for BU's third-period rally and late-game lockdown.
Parker said BU as a whole, particularly senior defenseman Sean Escobedo, played its best hockey when Dennehy pulled Marotta to give the Warriors a 6-on-5 advantage in the waning moments.
"Down the stretch Scooby [Escobedo] got an awful lot of ice time because now we're in the defensive mode and we're protecting a little bit of a lead," Parker said. "Scooby was immense in that 6-on-5 … Making some big plays, chipping it out and getting it out. He's had a heck of a senior year, no question about that."
Now the Terriers have rival BC (22-10-4, 15-9-3 Hockey East) on tap for next weekend and a potential Hockey East championship game waiting in the wings.
"We really came down the stretch pretty well, played very well at home. And now we go see if we can continue our season," Parker said. "It's nice that we get to play them. BC has always brought out the best in us and vice versa, so it should be a real great college hockey game.
"We can't end their season, but I would like to extend ours by getting to the final, that's for sure."