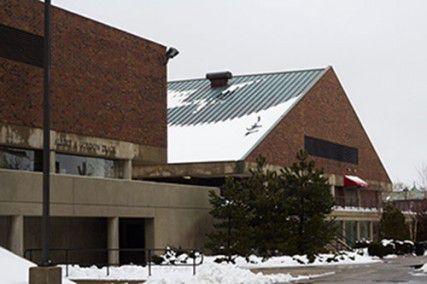 Boston Redevelopment Authority  approved Harvard University's request to amend an expansive redevelopment project in Northern Allston Friday.
"In order to clear the site, Harvard needed to remove facilities and move them somewhere else," said Gerald Autler, the senior project manager and planner for the BRA. "They identified another site they owned, the former Comcast building, and decided that would be a good location for this project."
The Harvard University administration plans to renovate their facilities at 28 Travis St. to house current Harvard facilities at 219 Western Ave., Autler said. The university also plans to lease open land to Samuels and Associates, a local developer, to build more facilities, but this amendment will be sent to the BRA board for approval in April.
"Some people are frustrated by the slow pace of some of Harvard's other development," Autler said.  "This has become much more politically controversial than we anticipated in terms of all the development. Some members of the neighborhood saw it as not a very desirable proposal by Harvard, which may not have drawn attention if their other things were moving forward at a faster pace."
The project will serve as a temporary home for existing institutional uses, including Harvard University Information Technology, mail and transportation services and the Harvard University Police Department training facility, said Lauren Marshall, senior communications officer for the Harvard University Planning and Community Programs, in an email.
"Over the past eight months, we have received clear feedback about the 28 Travis St. relocation plan from the [Harvard-Allston] Task Force, the city, Allston neighbors and elected officials," Marshall said. "The 28 Travis St. project includes the renovation of an existing single-story warehouse building and the construction of an additional single-story building."
The improvements will not increase the square footage of the Travis Street location, she said.
"This [Institutional Master Plan Notification Form] amendment also includes the Bright Arena Project, an interior renovation within the Bright Hockey Center and Gordon Indoor Track facilities within Harvard's Athletics area," Marshall said.
Rob Ridde, 22, a worker at Orchards Skate Shop in Allston, said in his two-and-a-half years living in Allston, Harvard has greatly increased its presence. He said he does not see why Harvard wants to build more.
"Half of Allston already feels like [Boston University] and now the other half now will feel like Harvard," Ridde said. "You can only assume with a college taking up more space the area is going to get more gentrified."
Jeremy Given, 24, an employee at Buffalo Exchange in Allston, said the area already resembles Cambridge with the amount of Harvard students and buildings in Allston.
"Lower Allston feels like Cambridge anyway because there are a lot of Harvard students there," Given said. "Harvard's further influence on Allston may change the feel throughout Allston, though."
He said construction has been going on for a long time already, but it has not affected him directly.
Maryssa Hartsgrove, 20, said the area Harvard is developing is disconnected from areas with higher pedestrian foot traffic. She said the area in which Harvard is building is isolated from where most college students live.
"It's already off to its own part, it doesn't really have much of an effect on the rest of Allston," Hartsgrove said. "That area of Allston is not the focal point. Allston is mostly focused in the central area and surrounding areas, and the [Harvard] part is separated from there."
Tori Brigham contributed to the reporting of this article.