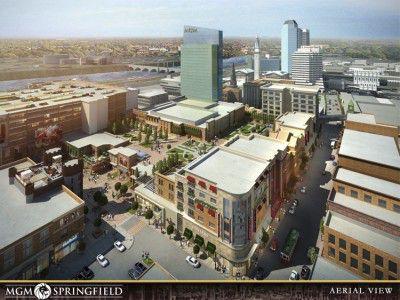 MGM Resorts International announced Friday it has filed the required paperwork in order to begin environmental review for a proposed casino in Springfield.
"A complete ENF [Environmental Notification Form] is required under the Massachusetts Environmental Policy Act for a development that meets or exceeds certain thresholds. The size, scope and location of the MGM Springfield proposal triggers the review," according to a statement from MGM Friday.
Carole Brennan, spokeswoman for MGM, said they have been planning the project for several months.
"MGM has been working extensively on this development since we announced this in August of 2012 and we have worked on this particular project for many months prior to that," she said.
MGM has to file copies of the ENF with eight local communities that will be impacted by the new casino, including Springfield, Agawam, Chicopee, East Longmeadow, Longmeadow, Ludlow, West Springfield and Wilbraham, according to the release.
MGM Springfield is the first applicant in western Massachusetts to undertake the step of filing an ENF and is expected to cost $800 million and cover 14.5 acres in downtown Springfield, according to the release.
Elaine Driscoll, director of communications at the Massachusetts Gaming Commission, said in an email that MGM Springfield is one of four applicants seeking a resort casino license in western Massachusetts after the government passed the Gaming Act in 2011.
"[The casinos] include: MGM Springfield, Penn National (Springfield), Mohegan Sun (Palmer) and Hard Rock (West Springfield)," she said. "The Gaming Act was signed with a priority on economic development, increased revenue to the Commonwealth and job creation."
Driscoll said developing gaming facilities that enhance tourism but handle environmental issues in the area is important for companies looking to expand to Massachusetts.
"Environmental issues and other mitigation concerns such as traffic and public safety will be key elements of the evaluation criteria for licenses," she said. "All applicants will be expected to address mitigation concerns in a comprehensive manner."
George Bachrach, president of the Environmental League of Massachusetts, said the review process that each company must go through when applying for a license is rigorous.
"Every development project has to go through an environmental review, you have to file site plans and go through approvals at the local level," he said. "Depending on whether you impact state roads or state lands, you have to go through an EPA [Environmental Protection Agency] process."
Bachrach said the paperwork is beneficial to addressing the environmental needs of the area being developed.
"We want to make sure that if there is preexisting contamination, that the new owner cleans it up," he said. "We don't want contaminants going into the water supply if the new owner builds on the soil."
MGM expects a positive outcome from the environmental review process, Brennan said.
"The review process will take many months," Brennan said. "The Environmental Notification Form is just the first step, and provides an outline of anticipated permits and impacts."