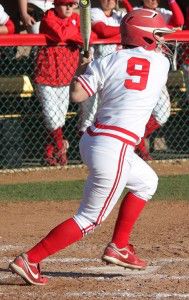 Following two trips to Florida and one to Arizona, the Boston University softball team recorded a 7-14 record to kick off its season. With a three-game series against the University at Albany set to be played over two days this past weekend, the Terriers were ready to kick off conference play.
However, Mother Nature and athletic officials begged to differ. It was decided Friday that the series between BU (7-14) and Albany (12-7) would be moved to April and the third game would be eliminated.
"They're really excited to start conference play," said BU coach Kathryn Gleason of her players. "We were excited to start the season at home against Albany, but unfortunately the weather did hold up."
Even more disappointing for the Terriers was that the "impending weather" never actually arrived in Boston. The layoff gave the Terriers a few extra days to practice before going back on the road to play a series each against Binghamton University and Providence College.
Shining stars thus far
Had the Terriers played the Great Danes this weekend, the skills of BU junior outfielder Jayme Mask and senior pitcher Whitney Tuthill would have been on display in Allston.
Mask, a Grafton native, has been the Terriers' leading hitter. Playing in all 21 of BU's games thus far, Mask has a team-high batting average of .338, a team-leading .419 on base percentage and 5 RBIs. Additionally, she leads the team with 14 stolen bases on 15 attempts.
"Jayme is the most vocal one on the team in centerfield," Gleason said. "She's the energy source of our team. Everybody feeds off of her, and she has been a huge part of the team. She is a leader on and off the field."
Meanwhile, ace pitcher Tuthill has been steadily improving since the team's start in Orlando just over a month ago. Through 11 starts and 16 total appearances, Tuthill has thrown eight complete games, compiling a record of 5-8 while attaining a 2.61 ERA in 88.2 innings. She has struck out 56 batters, and has held opposing hitters to an average of .254.
"Whitney has taken the ball," Gleason said. "She really wanted it to start the season and has taken charge on the mound and has done a great job of becoming more vocal and leading the team."
Versatility
To this point opponents have outscored BU 94–66. While the pitching and defense have been solid and kept the Terriers in games, the offense has struggled and runs have been hard to come by.
With Gleason in her first year, she is still learning about the team she coaches, and the players themselves are still learning about one another as a cohesive unit. Last month, Gleason mentioned how the team was able to learn about its resiliency.
This time around she hinted at the team's offensive struggles.
"We've learned we have to communicate on and off the field with each other, Gleason said. "That became stronger during the week [of spring break] and that there are many ways we can score. We found our groove towards the end and that we're starting to get used to our roles on the team."
BU will need to have a strong performance in conference play to earn an at-large bid to this year's NCAA Tournament, as a result of being banned from the America East Conference tournament this season.
"I am still getting used to the conference, and softball has so much parity that I think anybody is willing to come out and give us competition," Gleason said. "We'll be prepared for whoever and they'll be prepared when Boston University takes the field."