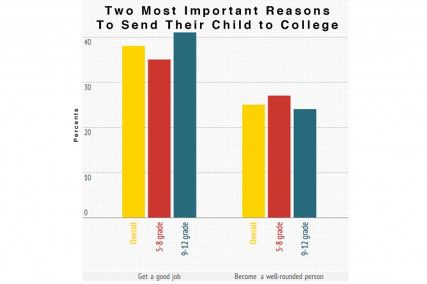 Parents of college-bound students tend to prioritize financial issues and career-building potential above all else during the process of choosing a university, according to an Inside Higher Education survey.
Ashley Mears, Boston University professor of sociology, said it is unsurprising that parents consider finances a top priority, as they are most often responsible for the costs of their children's education.
"The main source of income for people under 18 years old is their parents," Mears said. "That's why the primacy of parent contribution, when it comes to college tuition and also living expenses, would be so important."
The survey, which was conducted in collaboration with Gallup and released Wednesday, interviewed 3,269 adults with at least one child in the fifth through 12th grades on the value of college, student loans and affirmative action.
Scott Jaschik, Inside Higher Ed editor and co-founder, said the survey's results will give colleges and universities insight into the way families are thinking about admissions and affordability.
"Very few parents these days don't factor in money at all when deciding whether or not their kids can apply to colleges," Jaschik said.
When asked to identify the most important reason for their child to go to college, 38 percent of parents answered "to get a good job," the report stated.
"They [parents] think it is crucial that colleges be preparing students for careers," Jaschik said.
Parents are more likely to believe their children can find a good job with a vocational, technical or professional education than to believe their children can find a good job with a liberal arts education, according to the study.
Mears said students and parents face increasing demands for qualification in the workforce.
"The value of a high school diploma is not what it used to be and the value of a bachelor's degree is not what it used to be," Mears said. "It is what we would call a 'case of credential inflation.'"
Parents' willingness to accumulate debt for a four-year degree for a child seemed to correlate with family income, according to the study. Families who earn at least $7,500 a month are both more willing to borrow over $50,000 and less willing to borrow any money at all than families who earn up to $3,000 a month, according to the study.
"It would make sense that parents are making a calculus of how much help is enough help, versus how much help inspires a problem or backlash or dependency," Mears said.
A majority of parents answered they "strongly disagree" that affirmative action would negatively impact their child's chances of admission, according to the study.
Julian Go, a Boston University sociology professor, said that the attention received by affirmative action despite the apparent lack of concern expressed by parents could be attributed to anti-affirmative action political groups.
"It could be a case of certain political movements blowing up an issue … when apparently the majority of Americans don't think it's a problem," Go said.
Alejandra Feliz, a College of General Studies freshman, said while she supports diversity on campus, students should be admitted based on their academic ability alone.
"If a student fits the profile, they should get in," Feliz said. "It shouldn't just be because of their race."
College of Arts and Sciences sophomore Sandy Shaw said she understands why parents would restrict the schools to which their children apply based on tuition.
"It is soul-crushing if you get in to your dream school and then realize you can't afford it," Shaw said. "But … kids should be able to at least apply and see how much [financial aid] they could receive."
Sheena Lin, a School of Hospitality Administration junior, said while parental input in the college decision-making process is important, the child should make the final decision.
"The child is the one going through that [college] experience," Lin said, "It should be an agreement, or a collaboration, rather than a compromise."