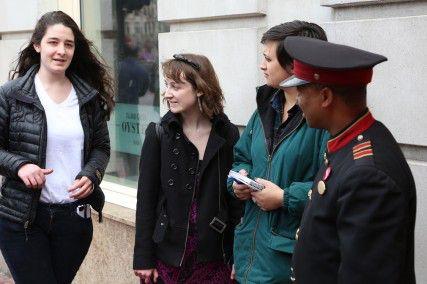 Boston University students have joined employees at Kenmore Square's Hotel Commonwealth  to protest against the hotel's new management, Sage Hospitality, amidst rumors of employee layoffs.
Tim Crowley, 29, a three-year bellman at the hotel, said he could count six employees who were fired without ample notice because they were apparently making too much money.
"Sage has eliminated and consolidated several positions in an attempt to run this hotel as if it is a cheaper place," Crowley said. "[Management has] brought the quality of this hotel down."
Talia Leonard, a College of Arts and Sciences sophomore, said she is a member of a group of students that have banded together to show support and solidarity for the rights of Hotel Commonwealth's employees.
"It is important that BU students stand up for the hotel workers because this hotel is on BU's property and we utilize it for our students and events," Leonard said.
Leonard said although some BU students might not feel directly affected by Sage's effect on the hotel employees, hotel workers still need the support.
"Students should not have to be directly affected by an issue for them to care about human rights," Leonard said. "We should stand up for the hotel workers because they are in a worthy fight for their own rights."
Hotel management initially refused to negotiate a contract for a year, essentially creating a pay freeze for employees, Crowley said.
Sage officials eventually agreed to hold a contract negotiation on April 2 after employees brought up concerns of inflation.
"If they don't sign the contract, we will have to picket during our lunch breaks or after our shifts," Crowley said. "Ninty-seven percent of us in the union voted that if all else fails, we would strike."
Crowley said he and several other employees are in a loyal union with benefits that Sage refuses to recognize.
"If I wasn't in the union, I would have already been fired and the management would have brought in someone else and paid them less," Crowley said.
Hotel Commonwealth General Manager Adam Sperling said no unjust firings have occurred.
"Any changes that Sage has made to our hotel have been so minor that they are completely irrelevant," Sperling said.
Since Sage took over management of the hotel, Sperling said all employees that have left have done so voluntarily.
Initially owned by BU, the four-star boutique hotel was sold to Sage in December.
Hotel Commonwealth had a great relationship with BU when the school managed the hotel, Crowley said.
"We are an independent hotel and [Sage] has a corporate mindset, which doesn't work around here," Crowley said. "We used to be more like a family …  now it is more divisive."
Although Crowley said he is disheartened by the changes the new management has made, he still would not consider quitting his job at the hotel.
"I would not consider leaving because, for those of us that still remain here, it is still like a family," Crowley said "It is just smaller and more protected."